EMR Communications Team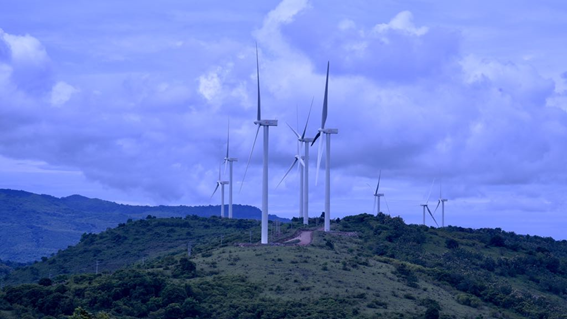 Our journey into the hilly terraced rice fields, little visible houses, the rest of the corn garden and some rice fields. We hastily searched for a point where it was possible to see the sunrise, on the sidelines of a giant pinwheel protruding in the hills of Sidrap. Yes, the windmill is the Wind Power Plant (PLTB) Sidrap .Windmill that turns wind into electricity, the highly iconic as in Netherlands, now Indonesia also has.
Traveling approximately 3-4 hours from Makassar paid off when seen from the distance that windmill began to spin.It is very graceful when the blades are spinning, when the Sidrap PLTB operation test is performed.
The sky was cloudy, but the clumped cloud, with a green stretch of water all around us, spoiled our eyes. The cool breeze and the hospitality of the residents passing by using motor vehicles made us feel at home for long standing there. Not long afterwards, previously still dwells windmills start to spinning. We were in the middle, and the windmill seemed to form a crescent moon in front of us.
Sidrap PLTB is very interesting, besides being the first and largest commercial plant in Indonesia, the location is very charming. The hillside with some plants looks fresh green, not to mention we see there are still very comfortable cattle foraging there, certainly in a safe radius.
The beautiful scenery was not just beautiful. Electricity generated from PLTB Sidrap is claimed to be able to illuminate approximately 70,000 thousand houses buffer 1,300 VA. So it can encourage economic activity and development of Sidrap region. In addition, the opportunity to be a tourist site is very promising, the landscape presented plus a giant windmill cannot be denied a special attraction for tourists. (KA)