Public Relations EBTKE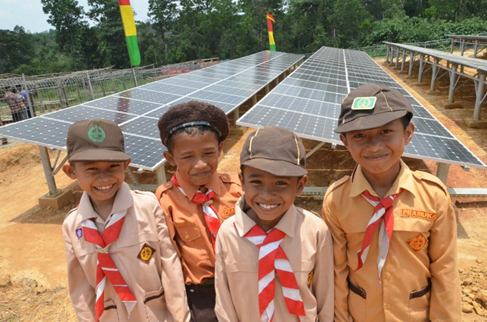 SIAK - Bencah Umbai is one of the villages in Sungai Mandau Subdistrict, Siak Regency, Riau Province with travel time about 3 hours from Sultan Syarif Airport, Pekanbaru. During this time,this village people use diesel / generator set and have to spend 700 thousand per month just to enjoy electricity 4 to 5 hours a day. "Now the people of Bencah Umbai feel free thanks to the electricity that exists now.Since there is a Solar Power Plant (PLTS) here, we can enjoy electricity 24 hours.No more disturbing generator noise, so the children learn the night more calmly.A night rest even more calm," said Supriyadi, Head of Bencah Umbai Village during the inauguration of the Bencah Umbai Centered Solar Power Plant(PLTS) held today (5/4).
Bencah Umbai Centered Base Solar Power Plant(PLTS) is fully operational in end February 2018 with a capacity of 50 kWp. The Solar Power Plant(PLTS) is able to illuminate 157 houses and 11 public facilities such as Mosques, Elementary School, Police Station and Village Office. Member of Commission VII of the House of Representatives, Sayeed Assegaf who also attended the inauguration of the Solar Power Plant(PLTS) stated that the development of Centralized Solar Power Plant(PLTS) can be realized by the Ministry of ESDM thanks to the cooperation between village apparatus, Siak District Government and Commission VII DPR RI. Assegaf hopes this Solar Power Plant(PLTS) can improve the welfare of the community and increase the literacy or willingness to learn the children in Bencah Umbai.
On the same occasion, EBTKE Infrastructure Planning and Development Director, Noor Arifin Muhammad expects that this handed over EBT infrastructure can be maintained and maintained so that its utilization can be felt longer. For the management of PLTS, Head of Bencah Village appoints 2 residents as a manager / operator and has received training. The management responsible for the management is carried out by village-owned enterprise(BUMDes) by collecting the contribution amounting to Rp 40,000 per month for each family, of which part of the contribution is to finance the operator's salary.
In this inauguration activity, the signing of Minutes of State-owned Handover of State-Owned Goods become Regional Owned Goods between the Secretary of the Directorate General of EBTKE as the representative of the Directorate General of EBTKE and the Vice Regent of Siak as Plt. Siak Regent, H.Alfredi. The development and handover of EBT infrastructure is a government effort in realizing justice energy for the people of Indonesia. (kay)