EMR Communications Team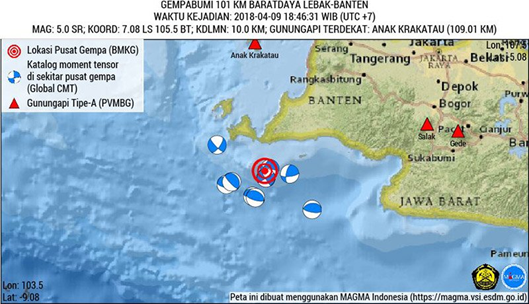 JAKARTA - Monday (9/4), at 18:46:31 WIB Meteorology, Climatology and Geophysics Agency (BMKG), informed that there has been an earthquake with magnitude of 5.0 SR. Earthquake centered at 105.50? BT and 7.08? LS, amounting to 5.0 SR at a depth of 10 km, located 101 km southwest of Lebak, Banten. Based on The United States Geological Survey (USGS), USA, the earthquake centered at coordinates 105,537? BT and 6.971? LS, at a depth of 65.4 km, with a power of M 4.9. The earthquake did not cause a tsunami because even though it was centered on the sea and the shallow depths but the energies it dyed were not strong enough to cause tsunami waves.
Center for Volcanology and Geological Hazard Mitigation (PVMBG), Ministry of Energy and Mineral Resources, Kasbani explained, the area around the epicenter of earthquake shocks composed by sediment quarter of alluvial coastal sediment, river alluvial sediment, volcanic sediment degradation, and rocks Tertiary sediments that have been partially weathered. Tertiary-aged sedimentary rocks that are weathered and sedimentary quater are generally blurred and unconsolidated, thus reinforcing the effects of earthquake shocks.
According Kasbani, the cause of the earthquake based on the position of the epicenter and the depth, earthquake events associated with the activity of sub ducting the Indo-Australian plate down the Eurasian Plate at that location.
The impact of the earthquake was felt in the region adjacent to the epicenter, then the intensity weaker as the distance from the epicenter increased. The nearest volcano to the epicenter is G. Krakatau. Earthquake shocks are not felt in Observation Post G. (PGA) Krakatau in Pasauran, but recorded by earthquake recording devices (intensity I MMI). This earthquake did not cause a tsunami, because although it was centered in the sea but its energy was not strong enough to cause deformation under the sea. Until this response is made, there is no information of damage caused by this earthquake.
Furthermore Kasbani asks the public to remain calm and follow the directions and information from local BPBD officers. Do not be provoked by the irresponsible issues about earthquakes and tsunamis. "People are always on the alert with the occurrence of aftershocks, which are thought to be smaller", concluded Kasbani. (SF,kay)