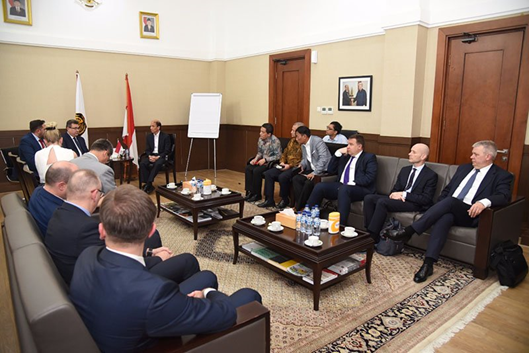 JAKARTA - In order to boost economic growth, the Government of Indonesia is continuing to make efforts to be more friendly to investors by providing simpler easiness and chains of bureaucracy by cutting down regulations that may inhibit investment. With the various facilities, the Government hopes the investment climate in Indonesia is more friendly for investors so investors want to invest in Indonesia. This was conveyed by the Deputy Minister of Energy and Mineral Resources (ESDM), Arcandra Tahar when receiving the visit of the Polish Delegation, today, Wednesday (11/4).
"The Indonesian government has been trying to create an investor-friendly climate in which the 2018 ranking of Indonesia's Ease of doing Business (EODB Index) is increasing to 72, or better than 2017 (91th rank)," said Arcandra.
Until first quarter 2018, the ESDM Ministry has also simplified / revoked 186 regulation / certification / recommendation / licensing which is considered to inhibit investment.
The Ministry of Energy and Mineral Resources, as a policy maker, ensures the business process runs better and transparent, as evidenced by the number of licenses that have been cut the investment in Indonesia can be more attractive to investors including from Poland.
"We will always be prepared to listen to the complaints faced by investors, and will strive to create a transparent and accountable business flow, and that Polish companies currently operating in Indonesia understand the flow of business in Indonesia to merge with local companies" explained Arcandra.
Deputy Minister of Energy of Poland, Grzegorz Tobiszowski who is also the leader of the delegation said, expressed his readiness to cooperate with the Indonesian government.
"Polish companies are very interested in investing in Indonesia today, with many Polish companies investing in Indonesia, namely Rafako, a Polish energy company, won the bid for a 2 x 50 MW steam power plant in Lombok, West Nusa Tenggara," says Grzegorz.
In addition to investment, Grzegorz also offers student exchanges in the fields of energy and mining. The ESDM vice minister welcomes the offer from the Polish Deputy Minister, as student exchange has a positive impact on culture, technology and enhancing bilateral cooperation between Indonesia and Poland.
The Polish delegation this time was led by Deputy Minister of Energy of Poland, Grzegorz Tobiszowski. Apart from the bureaucracy also included in Polish entourage entrepreneurs, among others, Jastrzebska Coal Company Deputy Chairman, Jacek Skowronski and Director of KGHM, Adam Brozek. (Kay