EMR Communications Team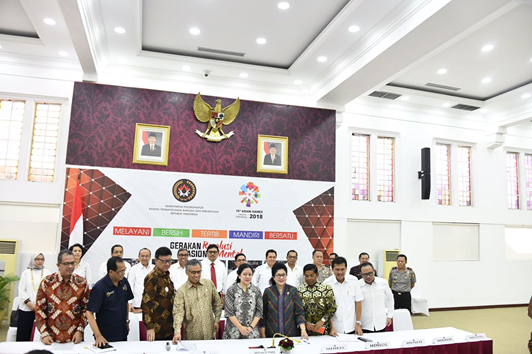 JAKARTA - Head of Oil and Gas Downstream Regulatory Agency (BPH Migas), M Fanshurullah Asa representing the Minister of Energy and Mineral Resources (ESDM), this morning (7/5) attended the Press Conference related to Follow up of the 3 Ministerial Joint Decree on Leave Together Eid Al-Fitr 1439 H held at the Coordinating Ministry for Human Development and Culture Building, Jakarta.
Related to this joint leave policy, Head of BPH Migas explained that for the team of National Post's ESDM, joint decree (SKB) 3 Minister needs to be studied more deeply. "The national post's team is in charge of securing the provision and distribution of fuel oil, gas, electricity and anticipation of geological disasters throughout Indonesia in the face of Ramadan and Eid Al-Fitr 1439 H, so that the 3 Ministerial Decree needs to be studied more deeply," Fansurullah said on the occasion.
Through the Decree of the Minister of Energy and Mineral Resources No. 1804 K / 06 / MEM / 2018, Chairman of BPH Migas has been assigned as Chairman of the ESDM National Post Team which will commence its working period on May 31, 2018 until June 28, 2018. One of the tasks is ensuring the security of energy supply (especially fuel, gas, electricity) in Ramadhan and Eid Al-Fitr whose consumption increases sharply compared to normal conditions.
Coordinating Minister for Human Development and Culture, Puan Maharani opened this press conference together with several Ministers and Heads of Institutions in explaining related , 3 joint decree (SKB) Ministers to media crews. The Government has determined the adjustment of the day of leave with Eid Al-Fitr through 3 joint decree (SKB) Ministers established on 18 April 2018. In following up on the 3 Ministerial Decree, the Government listens to various aspirations from social, economic, and security aspects and orderliness.
Through a series of deliberations and consideration, the Government adopted a follow-up policy of the 3 Ministerial Decree on joint leave on 11, 12 and 20 June 2018 as follows:
1. The Government ensures that services to the public that cover the interests of the wider community continue as usual: Hospitals, Telecommunications, Electricity, Drinking Water, Fire Fighting, Security & Order, Banking, Immigration, Customs, Transportation, and so on.
2. Each Ministry / Agency shall assign Personnel who continue to work to provide services to the public.
3. Civil servants who continue to work to serve the community at the time of leave together, can take time off at other times without compromising the annual leave rights.
4. Capital market and stock exchange transactions will be opened on June 20, 2018. Terms of Banking Services will be governed by Bank Indonesia.
5. Private leave in the private sector is part of the workers' annual leave which is fluctuating, so that the implementation is done on an agreement between workers and employers with due regard to the condition and operational needs of the company. Further provisions will be stipulated by the Ministry of Manpower.
6. The Ministry of Transportation will arrange all port stakeholders to work and serve the port activities during the leave period with Eid al-Fitr.
7. Four Coordinating Ministers will issue instruction letter to related ministries / agencies to carry out the assignment of Public Service and Employee Arrangement in related ministries / agencies.
8. Each ministries / agencies will follow up the arrangement of that matter by stipulating instruction and / or Circular Letter.
(BR / KO)kay