EMR Communications Team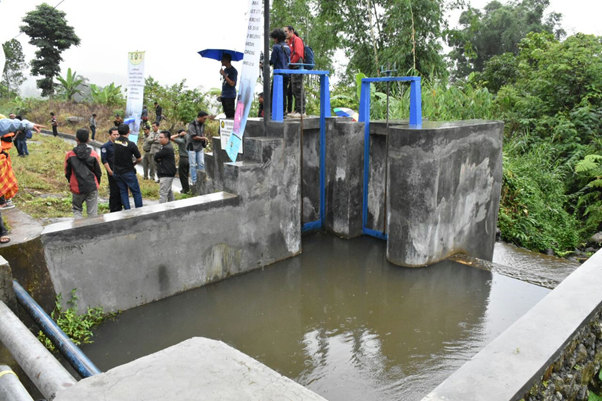 SINJAI - The Ministry of Energy and Mineral Resources (ESDM) through the Directorate General of Renewable Energy and Energy Conservation (DG EBTKE) has built a Microhydro Power Plant (PLTMH) to realize the expectations of Batu Serang Village, Sinjai District, South Sulawesi to enjoy electricity after 72 year of darkness because there is no PLN network in the village.
"The state of Batu Serang Village was previously only enlivened by the sound of birds, alhamdulillah is now enjoying electricity, after 72 years of Indonesia's independence," said Head of Batu Serang Village, Ahmad in his speech during the inauguration of PLTMH of Sinjai Regency on Saturday (12/5).
This PLTMH was built in 2017 using the State Budget (APBN) DG EBTKE. Located in Batu Serang Village, Sinjai Borong Subdistrict, Sinjai Regency with 35 kW capacity that illuminates 70 homes and 5 public facilities.
In morphology, Sinjai District is a hilly and mountainous area with electrification ratio of 80%, but there are still areas that have not been electrified. "Although the development of PLTMH requires considerable investment, but the economic value is felt by the community, now Sinjai Regency has enjoyed 4 units of PLTMH and the development of this PLTMH provides benefits in particular to build a positive relationship between the forest and the community," said Plt. Regent of Sinjai, H. Andi Anwar on the same occasion.
Currently, the operating system of PLTMH is done off-grid, whose management is carried out independently by the local community. Community contribution for PLTMH operation is Rp. 30,000 per month per household.
Member of Commission VII of the House of Representatives, Andi Yuliani Paris who also present hope that the people of Batu Serang Village can keep PLTMH by keeping the forest to keep the water flow.
In line with Andi, the Director of Planning and Infrastructure Development of EBTKE, Noor Arifin M, also hopes that the PLTMH built using public money can be treated and continue to be felt the usefulness. "The message of the Minister and the Director General of EBTKE that the PLTMH can be treated because the machine is long life or lifetime, if there is any complaint please contact us because still in warranty period, For maintenance able to do the training, the PLTMH can be repaired by mechanical," he said.
The development of PLTMH in Batu Serang Village is one of the efforts of the Government to realize social justice through the fulfillment and utilization of renewable energy for people in remote, outer and isolated areas. (EBTKE)k