EMR Communications Team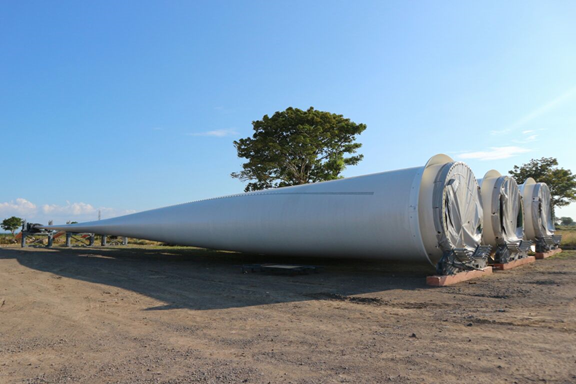 JENEPONTO - Several large gigantic poles stands out between harvested fields. While the buffalo rows are busy eating the rest of the hay, some are alone, some are clustered in the vastness of the seemingly endless "savanna" fields, no matter the frenzy of large vehicles going back and forth.
That is where the Wind Power Plant (PLTB) Tolo-1 will stand, precisely in Lengke-lengkese Village, Binamu Sub-district, Jeneponto Regency. At that location, the foundation and part of the tower have been erected, just waiting for the turbine blades transported from Makassar to be installed.
"The progress will continue to run, the target will be in the middle of this year, the physical work of Wind Power Plant (PLTB) Jeneponto will be completed, around July or August, while COD (commercial operation date) will be done after completion of preparation to integrate electricity generated Wind Power Plant (PLTB) to PLN network," said Head of Communications Bureau , Public Information Service and Cooperation Ministry of ESDM, Agung Pribadi in Makassar (9/5).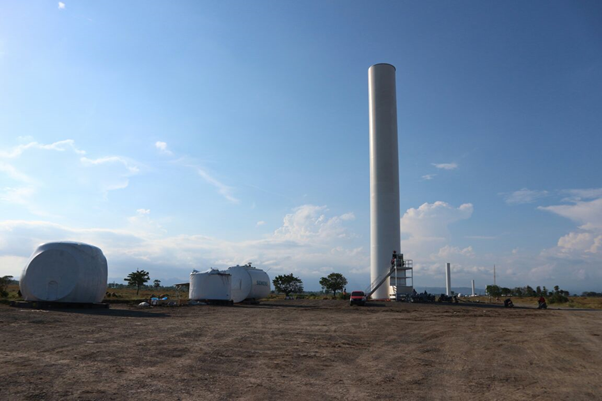 The same thing was also conveyed by General Manager of Business Development of Vena Energy (formerly Equis Energy), Harry Miarsono when met at the project site. "July will be targeted the physical work of the plant will be completed and we will do the test, while for COD will wait for the integration system ready," said Harry.
Agung added that when completed, Wind Power Plant (PLTB) Tolo-1 with 72 MW capacity will become wind power with the second largest capacity in Indonesia after Wind Power Plant (PLTB) Sidrap (75 MW). Although the capacity is slightly below Wind Power Plant (PLTB) sSidrap, the infrastructure of each tower at Wind Power Plant (PLTB) Tolo-1 is the largest, with 20 wind turbines of 3.6 Megawatt (MW) each.
The height of the tower of Wind Power Plant (PLTB) Jeneponto reaches 138 meters with blade length reaching 64 meters. While Wind Power Plant (PLTB) Sidrap has a tower height of 80 meters with 3 blades of turbines each along the 56 meters. A total of 30 wind turbines installed in Sidrap with a capacity of 2.5 MW each turbine.
Wind Power Plant (PLTB) Tolo-1 electrical energy generated from the wind speed of 6-8 m / s which is the potential of wind large enough to be developed commercially. Later, the wind-based plant will be connected with a transmission network of 150 KV. A total of 4 out of 10 150 KV transmission towers have been completed, which will be interconnected through Jeneponto Substation.
The Power Purchase Agreement (PPA) signed by PLN together with PT. Energy Bayu Jeneponto on November 14, 2016 with electricity selling price 10.89 USD cent / kWh. Based on the PPA, the project will be COD on November 14, 2019. The presence of Wind Power Plant (PLTB) Tolo-1 Jeneponto will complement the presence of Wind Power Plant (PLTB) Sidrap to increase the contribution of renewable energy in Indonesia, while increasing the reliability of electricity in South Sulawesi, which has reached 99.12 percent electrification ratio. (kay)