EMR Communications Team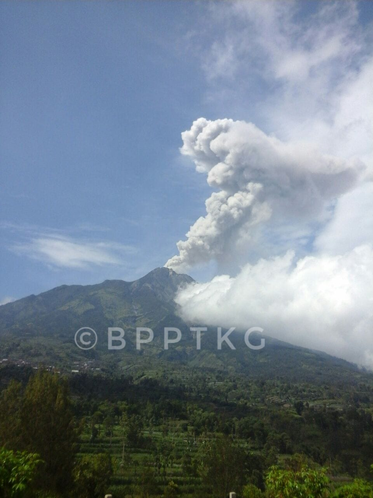 JAKARTA - Based on the evaluation of monitoring data of Mount Merapi activity conducted by Volcanology and Geological Disaster Mitigation Center (PVMBG), Geological Agency of the Ministry of Energy and Mineral Resources (ESDM) on May 21, 2018 which indicates an increase in activity then the status of Mount Merapi is increased from Level I (Normal) to Level II (Caution) commencing from May 21, 2018 at 23:00 pm.
Head of PVMBG Kasbani conveyed, the volcano with an altitude of 2968 m above sea level is reported to have a phreatic eruption that occurred 3 times on May 21, 2018, at 01:25 pm with a duration of 19 minutes altitude eruption column 700 m, at 09.38 WIB with a duration of 6 minutes height eruption column 1,200 m and 17.50 WIB with duration 3 min but eruption column height not observed.
With the rise of the status of Mount Merapi this 3 km radius from the peak of Mount Merapi asked to be emptied from the activity of the population. "People living in Disaster Prone Areas (KRB) III of Mount Merapi are also requested to increase awareness of the activities of Mount Merapi, recorded the last week of Mount Merapi experienced 1 volcanic earthquake and tremors, 12 earthquakes avalance, 3 earthquakes of eruption, and 5 times tectonic earthquake, "Kasbani said, Tuesday (22/5) early morning.
KRB III is an area prone heat flows, lava flows, falling rocks fall, stones (incandescent) and heavy ash rains. The areas included in this KRB III are Kepuharjo Village, Glagaharjo, Umbulharjo, Hargobinangun, Purwobinangun, Girikerto in Sleman District, Balerante Village in Klaten District, Jrakah Village in Boyolali District and Nglumut Village in Magelang Regency.
Kasbani also urged that climbing activities are temporarily not recommended except for the interest of investigations and research related to disaster mitigation efforts. "PVMBG team will routinely report every progress of Mount Merapi's activity to keep people calm and do not get hurt about issues of eruption of Mount Merapi that are not clear source," Kasbani said.
Related to the increased level of activity of Mount Merapi, local residents are expected to keep following the direction of the local government or can follow the progress of the mountain information through the application of MAGMA, ask directly to the Observation Post nearest Mount Merapi via radio communication at the frequency 165.075 MHz, through the official social media site bpptkg (twitter : @BPPTKG, instagram: @bpptkg) and website pages at www.merapi.bgl.esdm.go.id or to BPPTKG office, Jalan Cendana Number 15 Yogyakarta, telephone (0274) 514180-514192. (Author: Apriwansyah)k