EMR Communications Team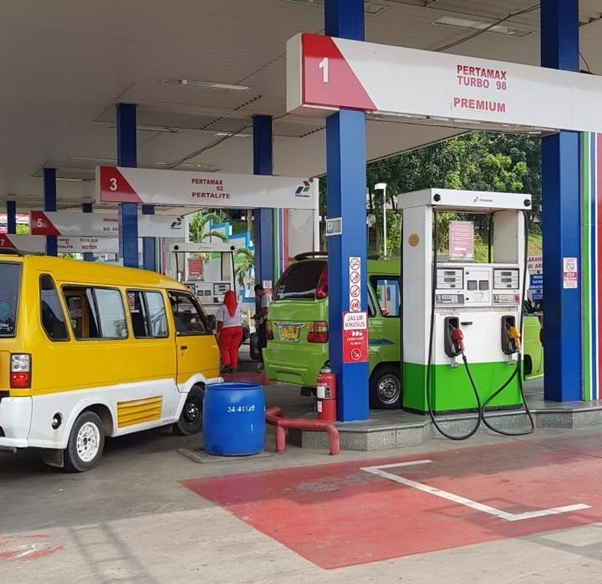 BANTEN - The people of Banten, West Java and Yogyakarta need not be concerned about the guarantee of supply of fuel oil (BBM) type of premium. The results of an investigation conducted by the Ministry of Energy and Mineral Resources (ESDM) on Saturday (2/6) showed that BBM suppliers are ready to distribute premiums to these three areas.
Saturday and Sunday, Minister of ESDM conducts checks along the Jakarta - Surabaya toll road. M1 also sent down three teams separately in Banten / West Java, DIY / Jateng and East Java specifically to ensure premium distribution after the issuance of Perpres 43/2018 which mandates the provision of Premium Type Fuel in Jave, Madura, Bali(JaMaLi).
"The result of our checks, there are 54 additional gas stations to provide premium in Banten.Three days ahead of the targeted have started running," explained Expert Minister (SAM) Energy and Mineral Resources Division of Natural Resources Economy Dadan Kusdiana after monitoring to Depo fuel and oil (BBM) Tanjung Gerem Banten.
54 gas stations, added Dadan, are part of an additional 571 gas stations in Java, Madura and Bali (Jamali) that will distribute Premium. So the number of gas stations that will distribute Premium in Jamali increased from 1519 gas stations to 2090 gas stations.
It is also a follow-up to the direction of President Joko Widodo as stipulated in Presidential Regulation No. 43 of 2018 on the Supply, Distribution, and Sale Price of Retail Fuel Oil, which requires the provision of Premium fuel in Jamali.
Meanwhile, there are also 9 gas stations that are also ready to distribute premium in Bekasi West Java, namely gas stations 34.17201 34.17503, 34.17601, 34.17604, 34.17202, 34.17134, 34.17140, 34.17402 and 34.17550. "The results of our monitoring at 9 gas stations before, 2 gas stations in Bekasi and Purwakarta have been channeling premium and the rest ready for distribute today or tomorrow," said Dadan.
Furthermore, Dadan explained the determination of the location of premium dealers in the region based on the level of community needs, especially in the non-toll road to anticipate the flow of homecoming and back Idul Fitri 1349 H.
Another observation in Yogyakarta, the AM Sangaji 44.5215 gas station in Jetis has even been providing premiums since May 27, 2018. "It's been a week ago," said ESMD Expert Minister Mirza Keumala. From the monitoring for 30 minutes, consumers prefer pertalite.
Similarly gas stations Munggur Yogyakarta has also provided Premium since yesterday (1/6).
As known, the Government is targeting the additional provision of Premiun at 571 SPBUs in Jamali to be completed by June 6, 2018. So that the expected fuel supply is secure, especially in the homecoming route.
(Author: Naufal Azizi )k