EMR Communications Team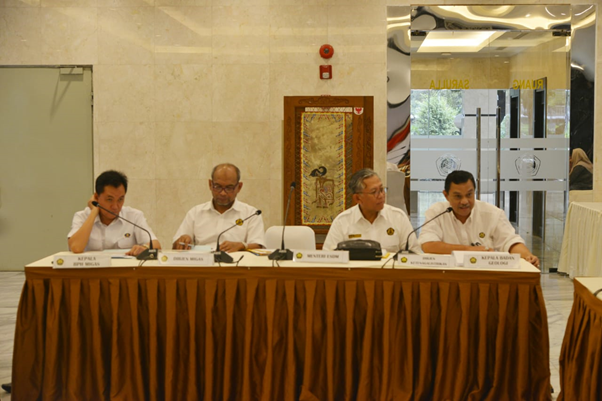 JAKARTA - In order to facilitate monitoring and complaints from the community during this period of Eid Al-Fitr Day 2018, the Ministry of Energy and Mineral Resources (ESDM) has provided call center service 1500335, complementing the previously established National Energy Sector Posts to anticipate the surge in energy demand Eid Al-Fitr holiday.
The existence of the call center of the Ministry of Energy and Mineral Resources at 1500335 phone number will answer the community's questions related to energy supply, electricity condition, and geological disaster. In addition, the call center will also monitor social media and serve community complaints delivered through social media channels with keywords "BBM and Listrik Lebaran".
Related to the condition of national energy security, Head of Downstream Oil and Gas Regulatory Agency (BPH Migas) Fanshurullah Asa as Chairman of National Coordinating Post of ESDM Sector conveys, until June 3, 2018, stock of Petroleum Fuel, Liquefied Petroleum Gas (LPG), and the condition of the electricity system is safely monitored. The National Coordinating Sector of EMR stated that for national stock of BBM, both availability and distribution, until June 3, 2018 is secure.
"Recorded Premium stock up to 27 days, Solar 24 days, Pertalite 21 days, Avtur 27 days, and Pertamax 20 days. All of this is secure, both availability and distribution," Fansurullah said at a press conference in Jakarta (4/6).
Meanwhile, related to the Premium stocks fulfillment target in Java, Madura and Bali (Jamali), until June 4, 2018, 38 locations from the target of 571 targeted gas stations, Premium is already available. "Related to the premium target, until this morning has 38 locations of Premium, of 571 targeted.We still appeal pertamina, H-7 is target 571 point can be realized, both in toll road and non-toll road in all area of ​​Jamali. will monitor every day the development of fuel availability, especially at gas stations in Jamali who are assigned to Special Fuel Type Assignment (JBKP), "added Fanshurullah.
While for reserves of 3 kg of LPG, also projected secure. "The national LPG stock is also secure, above the 11 day government regulation average, Pertamina has secured 17.9 days, which is 368,833 metric tons," Fanshurullah explained.
For the condition of the electricity system, according to Fanshurullah, generally run normally and standby. "The projection is that electricity consumption is reduced by 10-20 percent, especially in Java and Bali up to 30 percent.In our data, 21 electricity systems are running normally, 1 standby and 1 deficit in South Central Kalimantan, but in general, , because the operating reserves up to 4,225.48 MW, "said Fanshurullah.
The decline in electricity consumption has also been shown from consumption in late May to early June. According to Director General of Electricity Andy Noorsaman Sommeng, the decline in electricity consumption has reached 4 Giga Watt (GW). "Four days before, May 31 - June 3, there has been a decline.Usually the average daytime 33,000 MW night, today it is only 32,600 MW tonight, at noon more down could reach 27.000 MW, more decrease up to 3 GW to 4 GW. This will continue again for D-3 to D + 3, "added Andy.
From the geological sub-sector, the main focus included in the monitoring of EMR National Posko is volcano, earthquake and tsunami and also land movement. "About the potential of the Earthquake and tsunami is difficult to predict although every day there are incidents, but not destructive.For the movement of the soil, hopefully there is no more rain, if from the prediction rain is reduced," said Head of Geological Agency Rudy Suhendar.
To optimize the monitoring of the geology subsector, the Geological Agency has established a Geological Emergency Response Team 24 hours a day. "We set up a 24-hour Emergency Response Emergency Disaster Emergency Response Team and improve the monitoring of the more volcanoes into focus.For areas prone land movement, we have proposed to the Minister of EMR to be distributed throughout the province," Rudy added.
Currently, added Rudy, there are 21 volcanoes that continue to be monitored. where 19 volcanoes are warning status, including Mount Merapi, 1 Mount caution status, ie Mount Agung, and 1 mountain with danger status, that is Mount Sinabung.
(Author: Dyah Kusuma Dewi)k