EMR Communications Team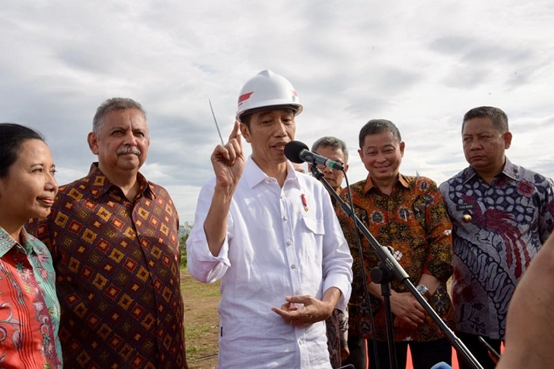 JAKARTA - President of the Republic of Indonesia Joko Widodo said that he will continue to encourage the development of new and renewable energy (EBT), because Indonesia has tremendous potential. This was disclosed by the President after the launch of the Sidenreng Rappang (Sidrap) Power Plant (PLTB) Sidoarjo with a capacity of 75 Megawatts (MW) in Watangpulu Subdistrict, Sidrap Regency, South Sulawesi Province, Monday (2/7).
"Our country has the potential of steam power from coal, and renewable energy, whether geothermal, sun, water, and wind, we see a forward vision of renewable energy", said the President.
President pointed out, the southern part of Indonesia to the East has the potential of wind energy is very good for built Wind Power Plant (PLTB). In addition, the potential of geothermal in Indonesia is also still very large.
"Geothermal power plant has a potential of 29,000 MW, newly done in the 2000s MW", said President Jokowi.
In the snapping, the investment cost of EBT plants will also become cheaper, unlike coal-fired power plants, because there must be a supply every day.
President Jokowi hopes that with the presence of these EBT plants will provide good competition, so that electricity prices will fall and give a positive impact on economic growth and competitiveness.
"We hope that with the decline in electricity prices will increase competitiveness, especially our industry with other countries", he concluded.
As known, President Jokowi was accompanied by Minister of Energy and Mineral Resources Ignasius Jonan, Minister of State-Owned Enterprises Rini Sumarno, Minister of State Secretary Pratikno, President Director of PT PLN (Persero) Sofyan Basir and South Sulawesi Governor Soni Sumarsono inaugurated and groundbreaked six Infrastructure Projects Electricity of Sulawesi Region, with total capacity of 757 MW worth 1.17 Billion USD. The project also employed 4,480 workers during the construction phase up to the operation phase.
Author: Dwi Antoningtyas . (k)