EMR Communications Team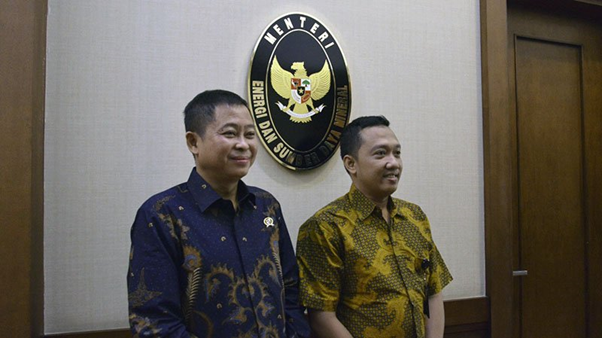 Proper creative innovation of Tusina Baraseger (Furnaces of Simple Coal Cyclone and Renewable Energy Sources) Center for Research and Development of Mineral and Coal Technology (Puslitbang tekMIRA), Ministry of Energy and Mineral Resources (ESDM) in addition to effective use in Small Medium Enterprises (IKM) as burning stoves, now began ogled the power plant industry as a power plant. According to researcher Tusina Baraseger from TekMIRA, Muhammad Ade Adriansyah Efendi, Tusina Technology uses perfect combustion to produce high energy.
"With the same amount of fuel as conventional furnaces, Tusina produces more effective combustion processes and smaller spaces," Ade told esdm.go.id, Monday (9/7).
Ade revealed that TekMIRA has been developing this cyclone stove for a long time, initiated by middle scale research by Mr. Sumaryono, then developed again by Mr. Ikin Sodikin combines burning between coal and biomass. "The cyclone furnace continues to be developed by tekMIRA up to us with the improvements we are making.Now the research is how this cyclone furnace becomes a furnace for small-scale power plants under 10 MW," said Ade.
To develop Tusina furnace into power plant, TekMIRA has cooperated with boiler manufacturer company, PT Aalborg Industri Indonesia since July 2017 and now its prototypes are already in PT Aalborg Industri Indonesia. "We redesigned the combustion of this boiler with cyclone system and has succeeded to become a furnace for power plant, the result of this stove development we have registered patent," said Ade.
Furthermore, Ade explained, "if the ordinary power plant, the burning location is in the boiler, while the development we do, the combustion is separate, there is in the cyclone furnace, and that enter into the boiler is only flue gas (hot gas) wearing a conventional furnace, the heat absorbed in the furnace or into the boiler is about 30-40% and if using our furnace then the efficiency produced up to 90% .The cyclone furnace is very effective once ".
A collaboration between TekMIRA and PT Aalborg Industri Indonesia is now generating orders of 6 cyclone furnaces for biomass-based power plants from East Nusa Tenggara Province.
Author: Safii. (k)