EMR Communications Team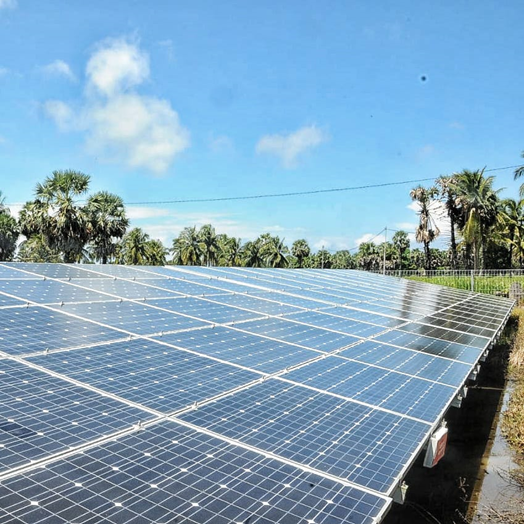 JAKARTA - The government is still running the new renewable energy mix (EBT) target of 23% by 2025. It was stated by the Minister of Energy and Mineral Resources (ESDM) Ignasius Jonan, in front of the members of Commission VII of the House of Representatives of the Republic of Indonesia (DPR RI) at a working meeting held at Nusantara I Building of the House of Representatives, on Thursday (19/7).
"The commitment of 23% that we do not change until today, which remains in the year 2025," he said.The composition of the EBT Mix by 23%, explains Jonan, consists of power generation sector and also in the transportation sector. Until now, the composition of the EBT mix, especially the power plant, only reached 13%, therefore according to him, reaching the target of 23% is not an easy thing.
"I do not think it's easy to achieve 23%." Now there are some things that have been done that hope will reach more than 20%, "said Jonan.
Jonan has confidence that the target will be fulfilled. He said the Ministry of Energy and Mineral Resources has made several initiatives to achieve the EBT mix target, which is to encourage PT. PLN (Persero) and Independent Power Producer (IPP) to enter into renewable energy generation, such as hydropower (PLTA) and geothermal power plant (PLTP).
"In West Java, PLN is fully supportive of the Citarum river reform to be able to be utilized as a new and undisturbed hydroelectric plant." On geothermal too, we are encouraging Flores to become a geothermal island because of its huge potential, all to improve the mix of renewable energy, "he added.
In another initiative, Jonan has asked PLN to replace all Diesel Power Plants (PLTD) with a total capacity of 3,200 megawatts (MW) using 100% palm oil.
"If it (using 100% palm oil) can be within 5 years, later renewable energy mix can increase 5%," said Jonan.
Another new initiative is the use of Rooftop Solar Photovoltaic (PV) or rooftop solar panels. Jonan proposes to apply the use of rooftop solar panels to certain types of PLN customers, such as households class 1 (R1) to R4 and also business class.
"If this is offered to PLN customers whose class is R, R1 may be up to R4, and may be business class. Maybe in 5-10 years can add 10,000 MW, it can add more than 5%, finished my work is 23% "closes Jonan.As known, the government has authorized the Power Supply Business Plan (RUPTL) PT. PLN 2018-2027. In the RUPTL, the Government sets the target of the power generation mix by 2025, for Coal by 54.4%, EBT 23.0%, Gas 22.2% and Fuel Oil (BBM) 0.4%. (k)
Author: Dwi Antoningtyas