EMR Communications Team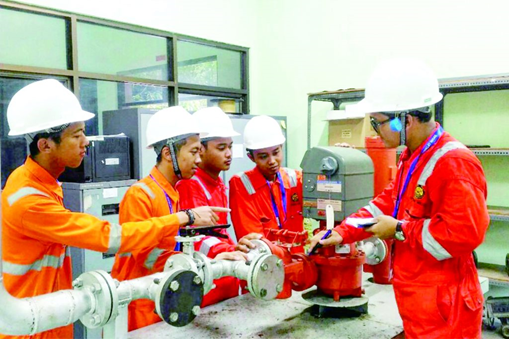 CEPU - The change of several units of work units within the Ministry of Energy and Mineral Resources (ESDM) into Public Service Agency (BLU) encourages the improvement of public services. One of them is through the provision of educational and training assistance (Diklat) which is focused on the people who are in oil and gas producing areas.
Located in the Center for Human Resource Development (PPSDM) Migas Cepu, the Government trains oil and gas skills to the community in the area for free. The debriefing is intended so that people around oil and gas producing areas become the main players in optimizing their natural resources.
Head of PPSDM Migas, Wakhid Hasyim explained, the preparation of human resources in the area of ​​oil and gas potential is the most important investment in the management of oil and gas sector. Especially according to the direction of the Minister of Energy and Mineral Resources Ignasius Jonan who focuses on the use of the State Budget (APBN) must be returned back to the community.
"Usually the local government asks for the Corporate Social Responsibility (CSR) for the building and rarely for training." This is entering the third year, we give the training at no charge, "said Wakhid last week (23/7) at the Hall of PPSDM Migas Cepu, Blora, Central Java .
This program was appreciated by the Regional Government as part of the beneficiaries, such as Natuna District, Bojonegoro District, Palembang City and Pattimura University of Maluku. "Alhamdulillah finally in 2018, Natuna entered as a Training participant organized by the Ministry of ESDM through PPSDM Migas," said Vice Regent Natuna Ngesti Yuni Suprapti on the same occasion. He hopes Natuna will continue to gain qouta in the coming year as the preparation to welcome the development of Natuna Block.
ESDM Ministry itself prioritizes Natuna regency to get training in SPBU Supervision field this year. This condition is considered because until now in Natuna Regency there is no Supervisor of Public Filling Station (SPBU). Especially the owners of gas stations in Natuna, has not had employees who have got the certificate of service stations.
For information, last week PPSDM Migas has trained 120 indigenous men from four oil and gas producing regions. They are trained to become skilled workers in the field of gas station operators, scaffolding operators, mobile crane lift unit operators and welders.
Throughout the year 2018, PPSDM Migas is also opening up opportunities for the public to contribute as well as in improving its expertise in Seismic, Health, Safety and Environment (HSE) seismic field surveys, rigger unit lift operators and Occupational, Health and Safety (K3) operators.
Through the assistance of the training, the people in the area affected by the oil and gas industry are not just "crowds in the crowd" or "guest at home". Now they can contribute to the implementation of petroleum projects in their area.(k)
Author: Naufal Azizi