EMR Communications Team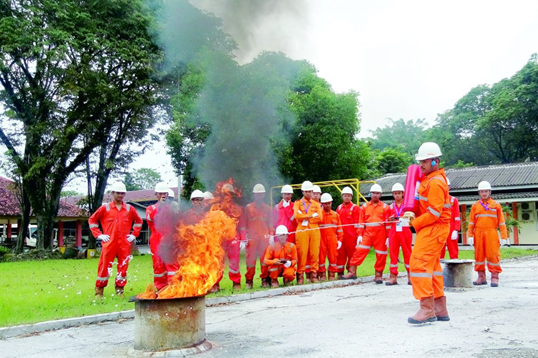 CEPU - Since establishment as a Government Agency as a Public Service Agency (BLU) through the Decree of the Minister of Finance No. 964 / KMK.05 / 2017 date December 28, 2017, Center for Human Resources Development of Oil and Gas (PPSDM Migas) Ministry of Energy and Mineral Resources (ESDM) continues to improve services with the principle of efficiency and productivity. The improvement is accompanied by presenting a variety of human resource development services in the field of oil and gas.
Occupying an area of ​​129 hectares with a strategic location on the border of the province of Central Java and East Java, at Jl. Sorogo No.1, Karangboyo, Cepu, Blora regency, Central Java, PPSDM Migas presents a range of technology services. This is supported by the ownership of learning facilities in the form of refineries with a capacity of 3,800 barrels / day or 600 m3 / day which is a real training tool for increasing the competence of human resources of oil and gas sub sector.
In addition to technology services, the work unit previously known as Pusdiklat Migas (2001-2016) also offers some oil and gas expertise, such as construction planning and development, preparation of Standard Operating System (SOS), consultant services, expert services, laboratory services, refinery processing, inspection and calibration services.
PPSDM Migas has also participated in competent-based training, covering upstream, downstream and oil and gas supporting fields each year with 2,500 people and certification of 11,500 people.
To support the learning process, PPSDM Migas completes a qualified infrastructure, ranging from classrooms, libraries, welding workshops and laboratories that comprise geology and exploration laboratories, labs. drilling, lab. production, lab. process and processing, lab. testing, lab. electricity, lab. mechanics and labs. instrument.
Established in 1996, PPSDM Migas is the only Professional Certification Agency (LSP) accredited by ISO 17024 by National Accreditation Committee (KAN) and has 36 scope of Indonesia National Work Competence Standards (KKNI). In addition, there are also accredited facilities, namely the ISO 17025 Testing Laboratory, Las ISO 9606, Oil and Gas Inspection ISO 17020, Lab. Calibration ISO 17025 - 2008, Integrated Management System ISO 9001 - 2008 and OHSAS 18001 - 2007, Well Control IADC and Well CAP USA.
In order to maintain competitiveness with global competition, PPSDM Migas is implementing the development of an international learning curriculum, such as the Technical Cooperation Among Developing Countries (TCDC) in 38 developing countries and training program Committee for Offshore Prospecting (CLMV) in ASEAN countries.
PPSDM Migas keep to make continuous improvements in various aspects such as managing the management, human resources management, strengthening supervision, strengthening performance accounting, improving public services and KKN-free in its operations. This improvement is done to maintain the quality of public services. (k)
Author: Naufal Azizi