EMR Communications Team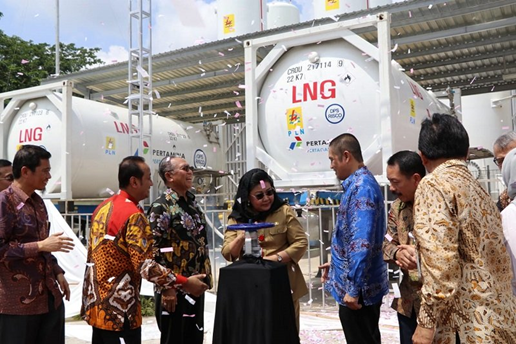 KUTAI KARTANEGARA - With the launching of Liquefied Natural Gas (LNG) storage facility and regasification at Sambera Gas Power Plant (PLTG) in Kutai Kertanegara Regency, East Kalimantan, it is potential to reduce the cost of electricity supply from Rp 2,780.86 / kWh to Rp 1,721.17 / kWh or save 38 percent with a potential fuel cost efficiency of Rp 280 billion per year.
"The government appreciates PT PLN (Persero) 's step in cooperating with PT Pertagas Niaga (PTGN) to take the step of efficiency in order to decrease BPP through the regasification of LNG in Sambera PLTG In the future, this model we hope can be developed in other places that currently still using PLTG-BBM ", said the Director General of Electricity Ministry of Energy and Mineral Resources, Andy Noorsaman Sommeng, on Monday (30/7), gave his speech at the inauguration of Sambera PLTG LNG storage and regasification facility.
This 2x20 MW Sambera power plant succeeded in replacing fuel from HSD to LNG where the gas source came from PT Badak's LNG plant. The operation of this facility further strengthens the fulfillment of electricity needs for the people of East Kalimantan, especially in Balikpapan, Samarinda and Tenggarong which reaches 20,000 families.
This LNG purchase contract has a term of 5 years with Build, Operate, Transfer (BOT) scheme in LNG storage and regasification. In addition, PTGN will also provide small-scale filling facilities that can be delivered by trucking mode to the Sambera power plant. The LNG storage and regasification facility is built and operated by PTGN in the form of joint operation with PT Dharma Pratama Sejati.
With LNG, PLN's power plant performance will increase and engine reliability is assured. In addition, the use of LNG is more environmentally friendly because it will reduce exhaust emissions, B3 waste production and ground water usage. (k)
Author: Dian Eka Puspitasari