。Public Relations EBTKE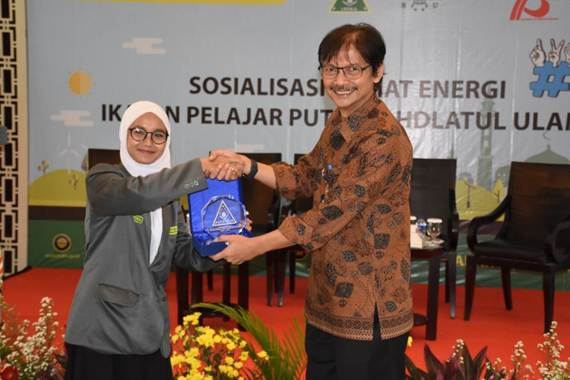 JAKARTA - Knowledge about energy conservation is very important to be understood by students who are the younger generation to continue to cultivate energy-saving behavior, this is what underlies the Directorate General of EBTKE to consistently campaign and continue to foster enthusiasm and share knowledge about energy conservation. Through the Directorate of Energy Conservation, various socialization activities and energy-saving campaigns continue to be carried out continuously. Today (1/8), located in the Sarulla Room of the Ministry of Energy and Mineral Resources Office, campaign activities and energy-saving socialization involve students who are members of the Nahdlatul Ulama Women's Student Association (IPPNU), who are still in middle and upper level madrasah/school and female students whose status is equivalent to those of the schools.
Through this activity, it is expected that these students will have knowledge about energy conservation and can change behavior so that they can apply energy conservation efforts in the school environment and their homes so that a frugal habit can be formed in the use of energy and furthermore each student can transmit the habit to surrounding environment.
Also present at this campaign were the Deputy Secretary General of the Nahdlatul Ulama (PBNU) Executive Board, H. Imam Pitudu, SH.MH. In his remarks, he said that a greater commitment was needed, that not only about saving energy, a bigger task was to invite and call on the younger generation and Indonesian students to have an awareness of changing the mindset and lifestyle that wants to consume more energy much compared to available availability.
"The collaboration with NU female students is not only about energy saving matters, but also about how to create village activist cadres to work to create and utilize new renewable energy in their respective regions such as waste management, whose energy output can be utilized for household energy consumption, "said the deputy of General secretaty (Wasekjen )of PBNU.
On the same occasion, the Director General of EBTKE, Rida Mulyana also shared knowledge with female students on the importance of energy-saving behavior. "The younger siblings must know that there are still many of our brothers in 2515 villages who have been independent for 73 years, their lives have never felt the presence of lights, even if it is bright, it comes from resin lamps or templars. It means what, we who have enjoyed this, please leave it, please save for our brothers there, most of whom are in Papua ", he said.
"Our important goal today is to make the brothers here become agents of change or energy-saving movement agents, start from ourselves, in their own environment, do it right now," Rida concluded. Rida Mulyana said that she is always present at every energy conservation activity, because it involves intergeneration, everyone, whoever it is must be concerned about conservation and energy saving because it involves a large audience and the Ministry of Energy and Mineral Resources cannot move alone to achieve energy saving targets , need the support of all parties.
Rida Mulyana shared simple tips or easy steps to save energy, which is popular with the slogan #aksihematenergi,(save energy action) namely through 3M, turning off unused lights and electrical equipment, regulating the temperature of the air conditioner in the room at 24-27ºC, and pulling out the power cable electricity. The implementation of energy saving measures is a form of support for the Government's program in order to realize equitable energy and energy security.
In several sessions of campaign activities and energy-saving socialization, many discussed how conservation policies in Indonesia, knowledge sharing by IPPNU alumni, Fitria Aryani, as well as discussions and questions and answers about energy saving tips, both air management, lighting and the matter of home energy calculator applications . (DLP) k