EBTKE Public Relation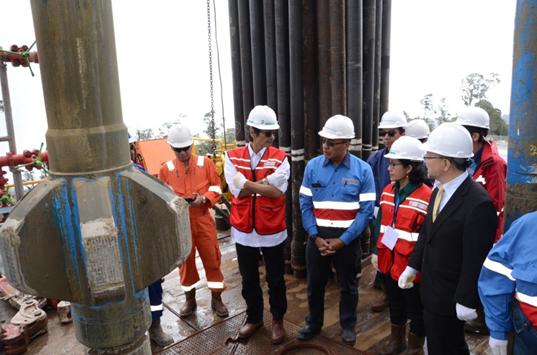 Today (4/8) ESDM Ministry's EBTKE Director General, Rida Mulyana, was accompanied by the Geothermal Director, Ida Nuryatin Finahari, on a working visit to Rantau Dedap Geothermal Power Plant in Muara Enim District, Lahat Regency and Pagar Alam City, South Sumatra Province, in the context of the initial process of making the mouth of the well of the RD-I3 well which was the first exploitation well. Rantau Dedap PLTP will be developed in 2 stages with an overall capacity of 220 MW. Phase I of 86 MW is planned to be COD in mid-2020 while phase 2 of 134 MW is targeted for COD in 2025.
Geothermal Energy is one of the national priorities in the energy sector, given the large amount of Indonesia's geothermal resources reaching 28.5 GW. The installed capacity of geothermal power plants in Indonesia is around 1,948.5 MW, and is the second largest producer of electricity from geothermal in the world, after the United States.
The Government through the Ministry of Energy and Mineral Resources has given approval to PT. Supreme Energy Rantau Dedap (PT. SERD) to enter the exploitation phase through a letter from the Minister of Energy and Mineral Resources Number 2224/31 / MEM.E / 2018 dated March 9, 2018.
This agreement was given with the consideration that PT. SERD has completed exploration activities (2010-2018) including geosciences survey, infrastructure development, drilling 6 exploration wells and well testing and preparation of feasibility study documents.
PT. Supreme Energy Rantau Dedap (SERD) as holder of Geothermal Permit, has reached financial close on March 23, 2018 with Japan Bank for International Cooperation (JBIC), Asian Development Bank (ADB), Nippon Export and Investment Insurance (NEXI) and international commercial banks (Mizuho Bank, Ltd., Bank of Tokyo-Mitsubishi UFJ, Sumitomo Mitsui Banking Corporation) amounting to USD 540 million for the development of Unit 1. The total cost required for this project is around USD 700 million. In addition, PT. SERD has also received price adjustments through power purchase agreement (PPA) amendments with PT. PLN (Persero) on November 6, 2017 which was originally 8.86 cent USD / kWh became 11.76 cent USD / kWh.
Exploitation activities at the Rantau Dedap Geothermal Project include drilling of 16 geothermal wells and accompanied by the construction of the PLTP Rantau Dedap Phase I with a capacity of 86 MW by the consortium of PT. Rekayasa Mandiri and Fuji Electric Co. The RD-I3 well drilling is the first of 16 exploitation drill wells (14 production wells and 2 injection wells) with an average capacity of 7.8 MW / well.
After operating, later the Rantau Dedap PLTP will be able to electrify more than 130 thousand houses. In addition to the construction phase, this project will create 1200 new jobs. The PLTP Rantau Dedap project will also provide additional state revenues in the form of Non-Tax State Revenues (PNBP) of USD 106.87 million for exploitation and other uses and revenues (this state revenue does not include tax revenues) with the following details:
1. Total exploration contributions amounting to USD 626,460.
2. Total Permanent Contribution during exploitation and utilization (30 years) of USD 4.25 million.
3. PNBP Production Fee / royalty fees assuming electricity generation is 681.9 GWh / year of USD 85 million during exploitation and utilization.
4. Production Bonuses for 3 Regencies ,Muara Enim, Lahat and Pagar Alam Regencies totaling USD 17 million during the production period. (k)