Public Relations EBTKE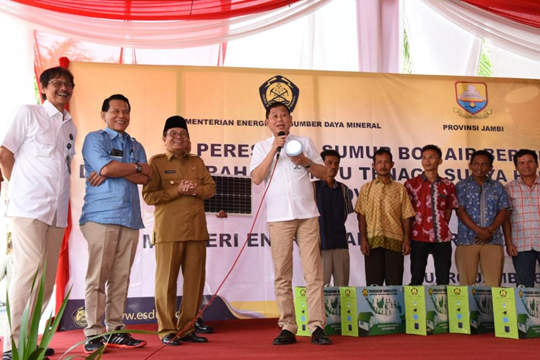 MUARO JAMBI - Minister of Energy and Mineral Resources (ESDM) Ignasius Jonan, today, Monday (6/8) symbolically handed over 10 units of Energy Saving Solar Lights (LTSHE) to representatives of Sungai Kayu Aro Village community, Jambi, along with the inauguration 9 groundwater drill wells located in Kemingking Dalam Village, Taman Rajo District, Muaro Jambi Regency, Jambi Province.
As part of the LTSHE program in 2018, the Government has handed over 807 LTSHE units to the people of Jambi in 2 districts (Tanjung Jabung Barat and Sungai Penuh), 2 sub-districts (Senyerang and Kumun Debai) and 3 villages (Sungai Kayu Aro, Kempas Jaya and Renah Kayu Embun).
LTSHE is a breakthrough program to illuminate people who have not had access to electricity, especially in villages that are still in darkness, totaling more than 2,500 villages throughout Indonesia. The LTSHE package will be distributed to beneficiaries in border areas, disadvantaged areas, isolated areas and the frontier islands or far from PLN's reach. This is a manifestation of Mr. Jokowi-JK's Nawacita especially the 3rd Nawacita, building Indonesia from the periphery by strengthening regions and villages within the framework of a unitary state.
In 2018 the Government targets 175 thousand LTSHE units targeting 15 provinces in isolated areas and difficult to reach with a PLN network with a budget allocation of around Rp600 billion. "This year, more than 175 thousand houses have been distributed. Next year 150 thousand more, if possible, submit as soon as possible, but please be treated," said Jonan.
The LTSHE program is one of the instruments to ensure that all communities get access to modern energy as an effort to realize fair energy. Minister Jonan hopes that through electricity lighting the house and the availability of clean water will be able to improve the quality of life and improve the economy of the Jambi community. Moreover, both of them have strategic value because they are a source of daily basic needs.
On the same occasion, Minister Jonan also demonstrated the use of LTSHE, which consisted of a 20 watt peak solar panel, 4 LED lights and a battery. On this occasion, Minister Jonan was accompanied by the Task Officer Governor of Jambi Fachrori Umar, a member of the Commission IV of the Indonesian Supreme Audit Agency (BPK), H. Rizal Djalil, Regent of Muaro Jambi and the SKPD of Jambi Province.
"The lamp does not use electricity from PLN, but uses electricity from solar power. If it's been charged, the lights are released like this, so if you go to a neighboring street it's dark, the lights can be used "explained Jonan, he turned on the LTSHE lamp.
"Also used to find fish too. So there are 3 lighting modes, if the brightest one can be released for 6 hours and the same as a 25 watt lamp, if just use for stay in home for chit chat is half-lightly, if want to sleep with dim light can be up to 48 hours, "said Jonan. k (RWS)