ESDM Communication Team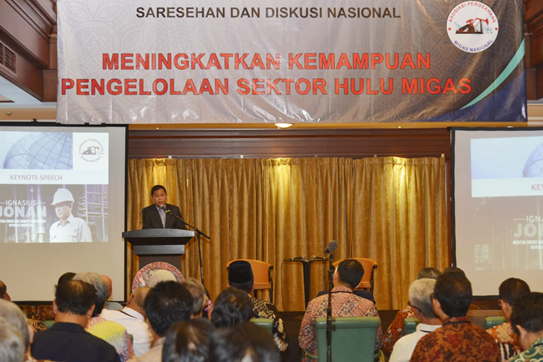 JAKARTA - Minister of Energy and Mineral Resources (ESDM) Ignasius Jonan again revealed that the government's goal of setting a 10% Participating Interest (PI) was none other than to make the regional economy even more equitable. This policy is based on the direction of the President of the Republic of Indonesia, who advised that the oil and gas sector (oil and gas) revenues should not be centralized in the capital, nor should the regions also enjoy it.
"10% PI is the government's alignment that aims to make development in the region evenly distributed. Local Governments (Pemda) must enjoy a 10% PI so that the regional economy becomes stretched," said Jonan at the National Workshop and Discussion entitled "Improving the Management of Upstream Oil and Gas", in Jakarta, Wednesday (8/8).
According to Jonan, in the Law already mandating the regions must get a 10% PI allocation. However, because previously there were no regulations governing the procedure for offering and transferring 10% PI. This causes the LG to receive fewer results than 10% PI.
Jonan illustrates what happened at Banyu Urip Field, Cepu. Even though the Regional Government has a 10% PI, the results received by the Local Governments (Pemda) are still relatively small.
"I am not correcting, but I am talking about the facts, it's a 10% PI, but maybe the Regional Government is enjoying it only very little, because of financing by the private sector," Jonan told the participants from various oil and gas associations in Indonesia.
Answering these problems, Jonan issued Minister of Energy and Mineral Resources Regulation No. 37 of 2016 concerning Provisions on 10% Participating Interest Offerings in Oil and Gas Work Areas. Minister Jonan explained, with the existence of the Ministerial Regulation, the Regional Government did not need to be confused about seeking the initial capital of the PI, because the PI payment could be paid in installments after receiving the production sharing 10% PI. Or in other words, the contractor will bear the initial capital of PI 10%.
Jonan believes, if there are no regulations governing the procedure for offering and transferring the 10% PI, then the Regional Government will be very difficult to pay a 10% PI because the budget is very limited. "If the 10% is from the Block of Rokan, I don't think that there are any local governments who are as wealthy as they can be (paying a 10% PI), it is impossible to do it," Jonan added.
Furthermore, Jonan stated that the Regional Government did not need to participate in paying the signature bonus submitted by the contractor to the government. "Signature bonuses are not paid. Free. Others should be pay, definite commitments and so forth, should be pay, proportionally, but doesn't need to pay at the beginning," he said. k
Author: Dwi Antoningtyas