Public Relations EBTKE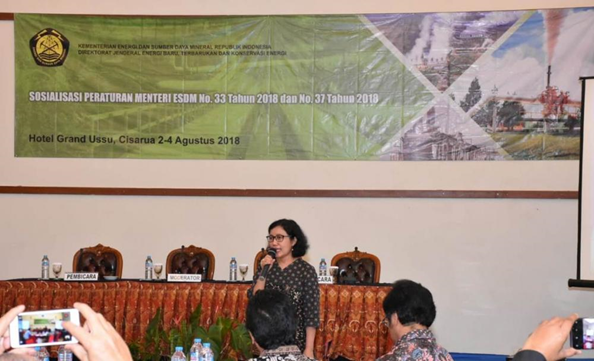 JAKARTA - The government has issued a new regulation on geothermal fields, namely the Regulation of the Minister of Energy and Mineral Resources (ESDM Minister) No. 37 Year 2018 concerning the Offer of Geothermal Work Areas, Giving Geothermal Permits, and Geothermal Exploitation Assignments and ESDM Ministerial Regulation No. 33 Year 2018 concerning Management and Utilization of Geothermal Data and Information for Indirect Use.
In substance, ESDM Regulation No. 37 of 2018 regulates matters relating to the procedures and mechanisms for offering Geothermal Work Areas (WKP) by way of auctions, procedures and mechanisms for Geothermal Permit (IPB), and procedures and mechanisms for geothermal exploitation assignments to the BLU / BUMN and the criteria of the WKP that can be assigned.
This EMR Ministerial Regulation provides greater participation space for PT PLN (Persero) to be involved in the offering of working areas in order to accelerate business processes in the development of geothermal energy. PT PLN (Persero) has the opportunity to submit proposals for the sale price of electricity from geothermal energy for the WKP to be auctioned and submit a form of initial transaction agreement (pretransaction agreement). The initial transaction agreement is expected to be a guide for PT PLN (Persero) and Business Entity in business interaction before PPA.
This regulation also provides differences in the selection of winners of the WKP auction to increase certainty of COD achievement in geothermal development in Indonesia and can assist the government in monitoring geothermal development. Unlike the auction mechanism based on Government Regulation Number 75 Year 2014 where the bid price is the main determinant in choosing the winner of the WKP auction, the determination of the proposed tender winner based on ESDM Regulation Number 37 Year 2018 is determined by considering the evaluation results of the project development proposal. So that prospective geothermal developers can make detailed, realistic and accountable project development proposals.
Finally, the regulation of the assignment of geothermal exploitation in ESDM Ministerial Regulation Number 37 Year 2018 is one of the breakthrough policies in the implementation of geothermal energy based on PP No. 7 of 2017. This arrangement aims to provide certainty regarding the criteria of WKP that can be assigned and maintain the investment climate of private parties in the development geothermal energy in Indonesia and maintain the ability of BLU / BUMN in developing geothermal energy in Indonesia. The granting of responsibility for the development of geothermal energy to BLU / BUMN which is too large is certainly at risk of burdening BLU / BUMN's finances in carrying out assignments and can disrupt the climate of private investment in the development of geothermal energy. Meanwhile, to maintain the condition of BLU / BUMN, the role of private investment in the development of geothermal energy is still very necessary.
Meanwhile, ESDM Regulation Number 33 Year 2018 was issued as the implementation of the provisions of Article 25, Article 33 and Article 112 PP Number 7 of 2017 concerning Geothermal for Indirect Use as a derivative of Article 57 of Law Number 21 of 2014 concerning Geothermal which states that all data and information obtained from Geothermal activities is the property of the State that uses and manages it with the permission of the Government. Geothermal Data and Information is one of the assets that require management and supervision.
This ESDM Ministerial Decree is intended to provide convenience and certainty to stakeholders in utilizing transparent Geothermal Data and Information, and to support the implementation of government drilling primarily related to the substance compensation of Geothermal Data and Information. Geothermal Data and Information Services are provided to stakeholders according to terms and conditions at no charge.
Geothermal Data and Information comes from the results of: (1) Preliminary Survey; (2) Preliminary Survey and Exploration; Preliminary Survey Assignment (PSP); (3) Assignment of Preliminary and Exploration Survey (PSPE); (4) Adding data to the Work Area; and (5) Implementation of Geothermal concessions by holders of Geothermal Permits (IPB).
General data and interpretation data are open, while raw data and processed data can be obtained through an application with no disclosure agreement (except the transfer of data and information in Geothermal exploitation activities by Business Entities holding IPB or assignment executors).
Business entities holding IPB or executing assignments must submit a report on updating Geothermal Data and Information to the Minister through the Director General every 1 (one) year which can be submitted through an online information system.
These two regulations are basically the Government's efforts in making policies to accelerate geothermal development, including facilitating the implementation of business, simplifying business processes to create an increasingly conducive investment climate, and complementing existing regulatory tools.
To provide a deeper understanding to stakeholders, the Government through the Directorate General of New, Renewable Energy and Energy Conservation has disseminated the two regulations to relevant Ministries / Agencies, PT PLN (Persero), PT Pertamina (Persero), and the Geothermal Business Entities twice, on July 20 2018 and August 3 2018 ago. k (RWS)