ESDM Communication Team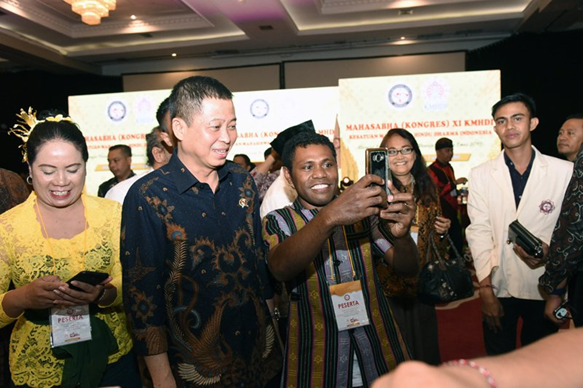 YOGYAKARTA - The Ministry of Energy and Mineral Resources (ESDM) is determined to electrify the entire region which is currently still part of 2,500 villages that have not been electrified, especially in the eastern part of Indonesia. The province of East Nusa Tenggara (NTT) is one of the areas where the electrification ratio is still below the national average.
As is well known, the average national electrification ratio has now reached 97.13%, while the electrification ratio of NTT Province is still at 60.82% or the lowest in Indonesia. Even when compared to Papua Province (72.04%) although Papua is still higher.
Seeing this condition, the Minister of Energy and Mineral Resources, Ignasius Jonan, was determined to electrify the area in NTT which had not enjoyed electricity.
"NTT is indeed the most behind in terms of electricity, I understand. I promise to be pursued until the end of 2019 to be electrified entirely," Jonan said when answering questions from participants of the Mahasabha XI National Conference of Hindu Dharma Indonesia Student Unity in Yogyakarta, Wednesday (29/8).
Jonan further revealed that he had surrounded the NTT Province, even to Buaya island. According to him, NTT Province has a huge challenge, therefore the Minister of Energy and Mineral Resources also asked the local government to coordinate with the Central Government to jointly develop NTT
"Please tell the local government (NTT), not only the Central Government is building, they (the Regional Government) must also build," said Jonan.
East Nusa Tenggara Province is an Indonesian province located in the southeastern part of Indonesia. The province consists of several islands, including Flores Island, Sumba Island, Timor Island, Alor Island, Lembata Island, Rote Island, Sabu Island, Adonara Island, Solor Island, Komodo Island and Palue Island. The capital of the Province is located in Kupang, in the western part of the island of Timor.
Based on BPS data, there are 20 villages that are still in complete darkness. Of the 20 villages, 12 of them have been and will be electrified by PT PLN, while the remaining 8 villages are the priority of the Ministry of Energy and Mineral Resources to get help from Energy Saving Solar Lights (LTSHE). This year, as many as 5,577 families in 39 villages in the province will get LTSHE, where East Flores Regency gets 744 units of LTSHE. (k)