ESDM Communication Team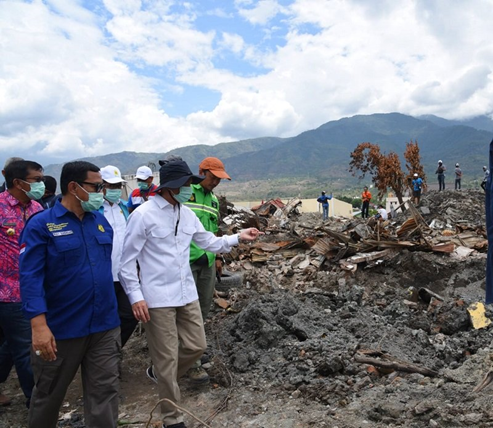 PALU - The Central Sulawesi Provincial Government plans to build a Liquefaction Disaster Monument in the District of Petobo and Balaroa, Palu, Central Sulawesi. In accordance with the recommendation of the Geological Agency, Ministry of Energy and Mineral Resources (ESDM), the location of the liquefaction disaster is no longer used as a residential location so that the same thing does not happen again. This step is part of geological disaster mitigation
"According to the report I received from the Geological Agency, this area used to be a swamp so that it is possible or prone to liquefaction. And to avoid causing the same thing, the Geological Agency will map the areas prone to liquefaction," said Deputy Minister of Energy and Mineral Resources, Arcandra Tahar when reviewing the location of the liquefaction disaster in Balaroa Village, Thursday (11/10).
Areas affected by high liquefaction are not suitable to be inhabited. The Central Sulawesi Provincial Government will make it a monument in the form of open green space. This is in accordance with the recommendations issued by the Geological Agency that post-earthquake reconstruction and rehabilitation in Central Sulawesi should refer to the Earthquake Hazard Prone Map, Tsunami KRB Map and Liquefaction Potential Map published by the Geological Agency.
The Palu area and surroundings according to the Head of the Geological Agency, Rudy Suhendar is a region with high potential for liquefaction. The three areas that experienced the liquefaction disaster, the first was Petobo Village, the second was Balaroa, and the third was Jono Oge Village in Sigi Regency. Of the three regions, two locations were recommended not to be inhabited, namely Kelurahan Petobo and Balaroa, because these two locations experienced massive liquefaction disasters while Jono Oge did not.
"Information from the Regional Government, that the area affected by the liquefaction will not be inhabited and will be used as a memorial park, because these two regions are no longer stable for building and these two areas based on the 2012 liquefaction Map are areas with the highest potential liquefaction. "Rudy said.
Head of the ESDM Office of Central Sulawesi Province, Yanmart Nainggolan said, "Currently we are waiting for the result work of the Geological Agency team which is mapping which locations are stable, which are not. The Geological Agency's work will be included in the Spatial Map which becomes guidelines for implementing the layout of the location of the red area, yellow area and the location of the green area, "explained Yanmart. (k)