ESDM Communication Team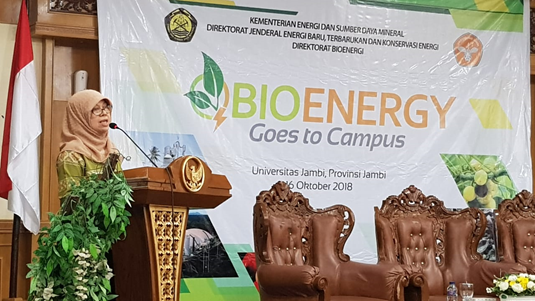 JAMBI - One of the priorities of the Ministry of Energy and Mineral Resources (ESDM) in an effort to realize the 23% use of Renewable Energy (EBT) in 2025, one of which is through the utilization of bioenergy potential in Indonesia. Data from the Directorate of Bioenergy, Ministry of Energy and Mineral Resources, until now the achievement of bioenergy utilization for Bioenergy Power Plants (PLT) reaches 1856.6 MW, with details of 213.6 MW already on grid with the electricity network PT. PLN and 1643 MW entered the offgrid network, with biogas utilization reaching 22.8 M m3 / Y, and biofuels reaching 3.42 kl.
This was conveyed by the Director of Bioenergy of the Ministry of Energy and Mineral Resources EBTKE, Andriah Feby Misna when opening the Bioenergy Goes To Campus program at Jambi University (10/16).
Furthermore, Head of the Bioenergy Investment Section of the ESDM Ministry, Tody Fedrica, explained that the implementation of Biogas Power Plants (PLT) from palm oil mill effluent (POME) is in the Riau and Belitung areas using anaerobic buffle reactor technology.
"Anaerobic buffle reactor technology means that the collected palm waste is covered by covered lagoon, the methane rises, then sucked into the gas engine. There are two Biogas Power Plants (PLTs) scattered in the Riau region, namely POME Biogas Power Plants (PLT) in PTPN V Riau Tandun Garden, and POME Biogas Power Plants (PLT) in Rokan Hulu Riau, besides that there is also the first POME Biogas PLT which is on grid to the electricity grid of PT. PLN (Persero), namely PT. Austindo Nusantara Jaya in Belitung, "Tody explained.
For Biomass Power Plants (PLT), Tody explained that there are already three companies in Sumatra that have been operating using biomass fuel, namely PT. Growth Sumatra Industri in Medan which has 2 excess power units with a total capacity of 15 MW, PT. Growth Asia in Medan with a total capacity of 20 MW, and PT. Rimba Palma Sejahtera Lestari with a capacity of 2x15 MW.
Power plants that use bioenergy sources can also utilize municipal waste. For example in the city of Surabaya, since 2001 has been utilizing municipal waste as a source of electricity generation. The municipal Waste PLT is owned by the Surabaya City Government and managed by the Sanitation and Landscaping Office of the Surabaya City Government in collaboration with PT. Organic Source as a private party. "In Benowo, Surabaya the technology is still landfill gas, Surabaya is one of the 35th Presidential Regulation of 2018, they plan to use 8 MW of powerplant gasification", added Tody.
In addition to electricity, the implementation of bioenergy can also be used as a Home Biogas Program, communal biogas program and cooking stoves called Energy Saving Healthy Stoves. For clean cookstoves against firewood is still the main fuel for cooking in 18 provinces in Indonesia. The Ministry of Energy and Mineral Resources and the Ministry of Finance have collaborated with the World Bank in the Pilot Project of the Clean Stove Inititive Program (CSI) in Central Java, DI Yogyakarta and East Nusa Tenggara.
"The Home Biogas Program aims to overcome livestock waste. The total that has been built up to 2017 is 31 thousand from the APBN funds and the Dutch Government's cooperation, while the communal biogas program utilizes human waste at the Islamic boarding school for lighting and cooking built in 15 locations using State Budget (APBN) funds ", said Tody. (k)