ESDM Communication Team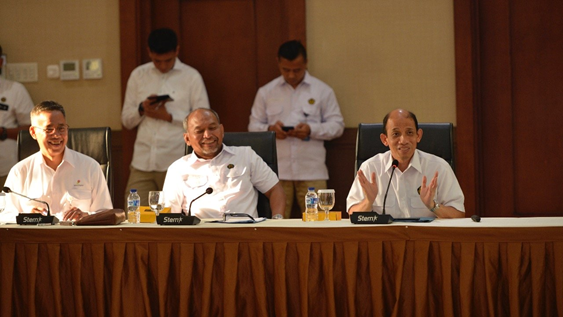 JAKARTA - ESDM Deputy Minister Arcandra Tahar explained three main criteria set by the Government in determining the winning bidder of the Phase II Oil and Gas Work Area (WK Migas) in 2018. The three criteria are fulfilling the basic requirements and conditions of the auction, financial health and record company footprint.
"What we see is their offer in accordance with the terms and conditions that we have set before, such as Definite Work Commitments. There are indications of how much they have entered. On average around USD 60 dollars or more than 1 trillion rupiah," Arcandra said. announcement of the auction winner at the ESDM Ministry's Heritage Building Jakarta, Monday (10/22).
The Government, added Arcandra, has conducted an in-depth evaluation of the proposed proposals submitted by auction enthusiasts. "Their proposal is interesting enough to not be attractive to the Government so that the oil and gas block can be further developed," he explained.
Furthermore, another criterion taken by the Ministry of Energy and Mineral Resources is the financial health of companies that follow the auction process. That way, the company is able to finance and carry out petroleum operations, "There is no financial problem," said Arcandra.
The last consideration that is no less important is a good track record in petroleum activities. "The company must be truly engaged in the oil and gas sector," said Arcandra.
Of the two sold WKs, the Government obtained a Total Signature Bonus of US $ 5,500,000, and a Definite Commitment of US $ 64,000,000 which included G & G activities of US $ 1,000,000, SeismiK 2D Survey 300 km, Seismic 3D 400 km2 and Drilling 4 wells.
Meanwhile, 4 (four) WKs, namely Makasar Strait, Selat Panjang, Andika Bumi Kita and South East Kalimantan who do not have winners will be auctioned again next week. "For blocks that are not selling, there is a possibility that we will enter the auction stage. the next one will open next week, "explained Arcandra.
The government also gave an opportunity to return to the company that had participated in the Phase II Conventional Oil and Gas WK auction but failed to become a winner. "We are opening companies that if interested in re-bidding (re-bidding) to the WK that is set today that has no winner. They are allowed (to join again)," concluded Arcandra.
In addition, the Government has other options by offering oil and gas WK who do not have winners to PT Pertamina. "Orally, Pertamina is interested in conducting a joint study, we will see it later," said Director of Oil and Gas Djoko Siswanto. (k)