ESDM Communication Team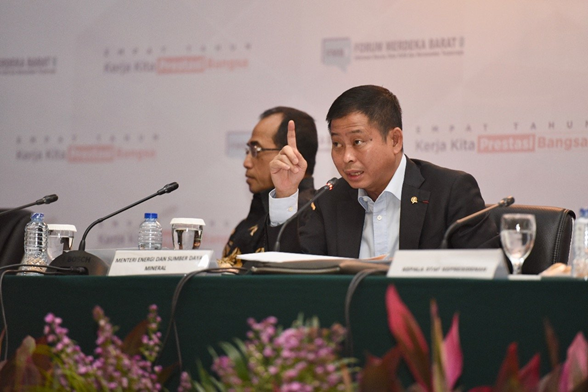 JAKARTA - Realization of investments in the energy and mineral resources (ESDM) sector until the third quarter of 2018 reached USD 15.2 billion. This figure consists of USD 8 billion in the oil and gas sector, USD 4.8 billion in the electricity sector, USD 1.6 billion in the mineral and coal sector, and USD 0.8 billion in the new, renewable and energy conservation sector (EBTKE).
Investment, especially in upstream oil and gas, is influenced by world crude oil prices. The amount of investment in upstream oil and gas is currently, according to Jonan triggered from 2011-2012, where crude oil prices reached more than USD 100 per barrel.
"If we look at the previous years, it was triggered from 2011-2012 where the price of crude oil reached USD 100 per barrel or more. Finally the investment decision followed. The reflection was in 2014-2015, as oil prices dropped in 2016, and "It's rising again, the investment needs are starting to rise again, later the reflection will be in 2019 or 2020," Jonan said in Jakarta, Wednesday (10/24).
Jonan also said that large investments, especially exploration, if seen from the cycle, were carried out in the period after oil prices had increased. "So this can't, it's often too late. If you look at the cycle, it's all big investment, especially exploration, it's done in the period after the oil price is high. So because no one can predict what oil price, or something," Jonan said.
Investment in the oil and gas sector is indeed dependent on world crude oil prices, but the commitment to oil and gas exploration is now large. The government, added Jonan, received exploration commitments of up to USD 2 billion.
"For oil and gas, depending on world prices, we cannot control it, it is up to the investment. However, the commitment for exploration is now large. The government has an exploration commitment with an extension of the oil and gas block including Block Rokan and other blocks of approximately USD 2 billion, this should be used to trigger exploration, "Jonan said.
In addition to the oil and gas sector, Jonan also said that the figure of investment in the electricity sector adjusted to economic growth and electricity use.
"Electricity investment will definitely go down, if it is expected to increase continuously, it will build up how much it will not be possible. So 35,000 megawatts of electricity cannot be invested all the way to 2019, because of economic growth of 5%. In the past 35,000 MW had to be completed 5 That year the economic growth was 7-8%, "explained Jonan.
Therefore, continued Jonan, the construction of power plants included in the 35,000 MW program will be continued until 2024-2025.
"The average electricity use of each region is around 1.5 times economic growth. For example, economic growth is 7%, electricity use is 10.5%, if (economic growth) 8% yes (electricity use) 12%, but if economic growth is 5 % maximum electricity usage is 7.5%. Compared to 3%, it is very large. If the installed capacity is 60 gigawatts, 3% is 1,800 MW, it is huge. So we move it until 2024 2025, so that's why it will be flat. " Jonan added. (k)