ESDM Communication Team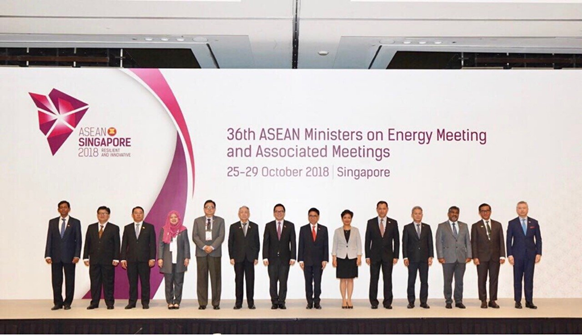 SINGAPURA - The Ministry of Energy and Mineral Resources (ESDM) participated in a series of Senior Official Meeting on Energy (SOME) meetings in Singapore on 25-26 October 2018. SOME is an annual meeting between high-energy ASEAN officials with international dialogue partners and organizations which is relevant.
The event, with the theme "Transforming Energy: Invest, Innovate, Integrate", aims to reflect dynamic changes in the global energy landscape and emphasize the importance of adaptability and looking ahead in the development of energy policies for Southeast Asian countries.
The agenda of the meeting discussed the implementation and achievements of ASEAN cooperation as mandated in the ASEAN Plan of Action on Energy Cooperation reference document. Each focal point from the seven areas of energy cooperation conveyed the achievements and progress of cooperation activities which were then discussed by all ASEAN countries to get a joint agreement. Then, at the 36th meeting of the ASEAN Ministerial on Energy Meeting (AMEM 36) which will be held on 28-31 October 2018, the energy ministers will provide direction for the implementation of further cooperation.
The Indonesian delegation led by the Director of Electrification Program, Jisman P. Hutajulu as Senior Official of Alternate Energy Leader Indonesia convey some SOME intervention in a meeting, which was later adopted in the draft Joint Ministerial Statement which will be submitted at the meeting AMEM.
"The one that was delivered is support for building the ASEAN Power Grid (project interconnecting electricity Southeast Asia) for the purpose of reserve sharing, enhancing the reliability of the electricity system, can reduce the cost of production for the plant and for increasing the development and integration of generating renewable energy," said Jisman.
Jisman further said that Indonesia also encouraged the adoption of issues concerning energy supply in remote areas, the development of renewable energy with innovative business and financing models, capacity building and energy management certification, as well as harmonization of testing methods for some energy utilization equipment.
Friday (26/10) tomorrow, the meeting will continue with dialogue between ASEAN countries and ASEAN partner countries in the ASEAN + 3 framework (China, Japan and Korea) and ASEAN + EAS (ASEAN + 8 South Asian countries, East Asia, including Russia and the United States). The issue that will be discussed in the meeting is the development of cooperation for all this time and improvement in the future.
Furthermore, Results from the SOME meeting will be reported at the AMEM36 meeting along with the implementation of Singapore International Energy Week. At this AMEM36 meeting, the Indonesian delegation will be led by the Deputy Minister of Energy and Mineral Resources, Arcandra Tahar. On this occasion, the Minister of Energy and Mineral Resources will also be a speaker / panelist at the Singapore Energy Summit, Gas Asia Summit, and 5th International Off Grid Renewable Energy Conference and Exhibition.
In addition to the delegation of the Ministry of Energy and Mineral Resources, the Indonesian delegation also supported by representatives of the Ministry of Foreign Affairs, PT PLN (Giglio), which on this occasion also serves as Secretary General Heads of ASEAN Power Utilities / Authorities (HAPUA) is a cooperation organization electric company states ASEAN, and PT Pertamina as part of the ASEAN Council on Petroleum (ASCOPE), the ASEAN national oil and gas company cooperation organization.(k)