EMR Communication Team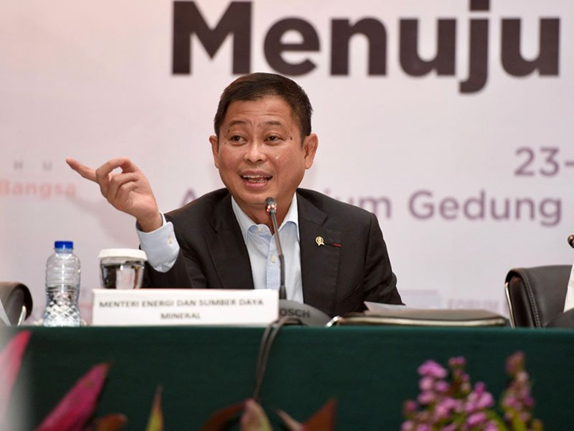 JAKARTA - Minister of Energy and Mineral Resources (ESDM) Ignasius Jonan asked PT PLN (Persero) to build an electricity system on the island of Sumatra similar to Java which is interconnected between several electricity centers (generators) with other plants and several substation (GI) with another GI through a transmission line. Jonan's request is one of the four electricity targets that must be achieved by PLN.
"I have told PLN, the transmission for Sumatra Island must be like Java-Bali. Java-Bali is one of its transmission and distribution networks, the network connectivity is one. Sumatra must be one, now it has 70 Kilovolt (Kv), 150 Kv has already been completed and next year a 270 Kv network has to be completed to accommodate electricity production from the generating capacity that exceeds 600 MW of one plant, it should be able to finish, "said Jonan, Thursday (1/11).
The Java-Bali electricity system is currently connected in an interconnection network between one plant and another and one substation to another, so if the distribution of electricity can continue (without breaking), if one of the plants is damaged then the distribution of electricity can be transferred to other power centers.
Completing the construction of electricity infrastructure in Sumatra, according to Jonan, is one of the targets in the electricity sector that must be achieved. The next target is to increase the national electrification ratio to 99.9% by the end of 2019, higher than the target of the Medium Term Development Plan (RPJM).
"This achievement of 99.9% is the target of the Ministry of Energy and Mineral Resources, because the Medium Term Development Plan (RPJM) is 97.5% at the end of 2019. When I report to the President, I say that I will fight it and ask for President's support, and today 97.5% has passed. Today the electrification ratio has reached 98.05%, at the end of 2018 the expectation is 98.5% and the end of 2019 is 99.9%, "Jonan added.
After increasing the electrification ratio of 99.9% at the end of 2019, the next target in the electricity sector is electrifying isolated and unreached areas of PLN electricity with Solar Home System (SHS) and maintaining electricity prices to remain affordable by the public by asking PLN to make efficiency.
"We will try to solve for areas where there is no electricity network or difficult to install home solar systems. Last year nearly 80,000 home solar systems have been installed, this year we will install 175,000 and next year maybe around 150,000 so that the national electrification ratio target will be reached 99.9%, "concluded Jonan. (k)