Public Relations EBTKE |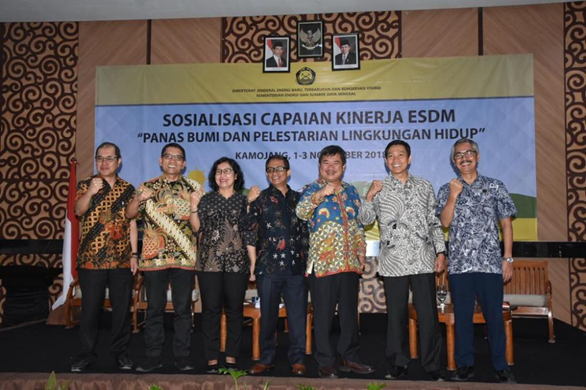 GARUT - The government encourages support and collaboration with all stakeholders to realize the commitment to accelerate geothermal development in accordance with the principle of sustainable and sustainable environmental functions. "As mandated in the Law on Geothermal Energy, the implementation of geothermal activities adheres to the principle of" sustainability "and" sustainability of environmental functions ". Collaboration and support are needed to realize this, not only from the Central Government but also the Regional Government, business people, associations, academics, especially the surrounding community, "said Director of Geothermal Energy, Ida Nuryatin Finahari in the ESDM Sector Performance Achievement Socialization with special topics Geothermal and Environmental Conservation on Friday (10/2) in Kamojang, Garut.
Law Number 21 of 2014 concerning Geothermal states that the implementation of geothermal activities adheres to the principle of "sustainable" and "preservation of environmental functions". This means that the implementation of geothermal energy must be managed properly so that it can produce sustainable energy while still paying attention to and maintaining the continuity of the carrying capacity and capacity of the environment while maintaining the continuity of the energy itself.
According to Ida, in terms of regulation, both the laws and regulations in the geothermal field as well as in the field of environment, have taken into account and prioritize environmental aspects by requiring Geothermal Permit Holders (IPB) to carry out efforts to control pollution and / or environmental damage which includes activities prevention, prevention and recovery of environmental functions. "This can be done for example through good and correct land clearing and construction, reforestation of the area around the Geothermal Power Plant (PLTP) and steam field, brine and condensate injection through distribution pipes, use of waste water management installations, and maintenance of biodiversity," she said.
"Management and monitoring of geothermal environment takes into account the following matters: air quality, noise, hydrology, water quality, transportation and road damage, flora and fauna disruption, slope stability, waste, Hazardous and Toxic Materials (B3), and B3 waste and social culture, "added Ida.
In line with Ida, on the same occasion the Secretary of the Directorate General of EBTKE, Wawan Supriatna, revealed that safeguarding the earth from the effects of climate change and expanding access to sustainable renewable energy is our shared responsibility. "Coordination and active participation are needed from all geothermal stakeholders including the Government, Regional Governments and related Ministries / Agencies to maximize and accelerate the development of geothermal energy," said Wawan.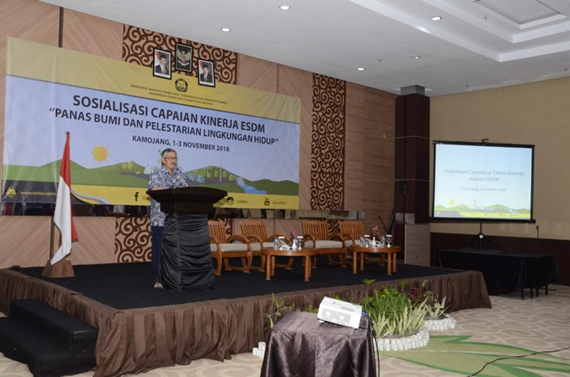 Wawan also hopes that all stakeholders can become effective communicators in conveying the goals, benefits and efforts to develop geothermal energy. Good support and coordination from all relevant parties are expected to help overcome or reduce the problems of environmental issues and social issues that arise so that exploration and exploitation of geothermal activities with the surrounding environment can be accelerated well.
Some of the cases that have occurred lately should concern us together so that there are no misunderstandings about the impact of geothermal business activities. Therefore, the Government seeks to provide new insights and increase awareness of relevant parties in efforts to protect the environment in geothermal exploitation.
"We not only talk about geothermal advantages compared to other primary energy sources, but also geothermal exploitation must go according to plan and remain in the corridor of pro-environment development strategies and avoid potential pollution and / or damage to the geothermal environment. Therefore we invite all parties including the Ministry of Environment and Forestry, Regional Government, Muspika and community leaders to discuss together to strengthen the synergy of efforts to accelerate the development of geothermal energy for sustainable national energy security, "concluded Wawan. (k)