EMR Communication Team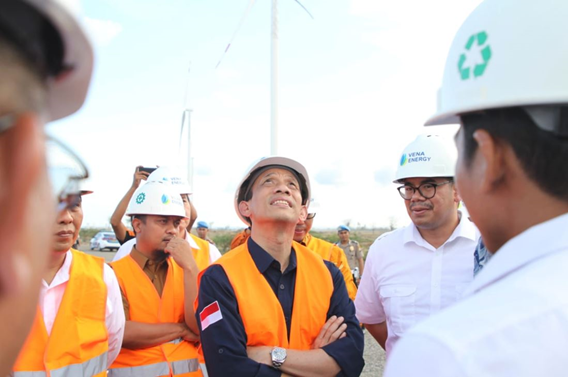 JENEPONTO - Deputy Minister of Energy and Mineral Resources (ESDM) Arcandra Tahar on Tuesday (6/11), conducted a working visit to South Sulawesi Province in the context of a review of the Tolo Wind Power Plant (PLTB) and an outcrop review of the Karompang Pajja beach in Jeneponto. Present at this visit were members of the House of Representatives Commission VII, Mukhtar Tompo and Deputy Governor of South Sulawesi Andi Sudirman Sulaiman.
Tolo Wind Power Plant (PLTB) Will Finish Faster Than Target
The Tolo Wind Power Plant (PLTB) located in Binamu District, Jeneponto Regency, South Sulawesi, currently the construction has reached 97%. Of the 20 Wind Turbine Generators (WTG) planned, 17 WTGs have been installed. Control building and service building have also been completed. Tolo PLTB is targeted to reach the Commercial Operation Date (COD) by the end of 2018 or faster than next year's target.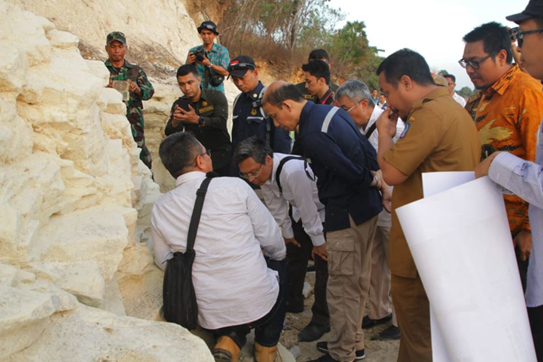 "Our vision for the future is renewable energy. It should not continue to depend on fossil energy. The construction of this power plant will strengthen national electricity supply. Our electricity reserves or reserves are sought more than 30 percent," said Arcandra in 13 WTG The Tolo Wind Power Plant (PLTB) area.
The government continues to accelerate the development of renewable energy (EBT) and encourage the industry to become more competitive.
"Our commitment renewable energy ( EBT) is 23% in 2025. The Tolo Wind Power Plant (PLTB) is one of them. We also develop other types of plants, such as geothermal, hydro, solar, biomass, biogas. All of the potential EBT in Indonesia we develop, so we can supply the energy needs of the Indonesian people which are not dependent on other countries. That's our vision for the future, "explained Arcandra.
From a technical point of view, the Domestic Component Level (TKDN) of Tolo Wind Power Plant (PLTB) reaches around 42%. With a height of 133 meters (m) and a length of 63 m propellers, each turbine is capable of flowing 3.6 Megawatts (MW), so that its total capacity reaches 72 MW.
"This (TOLO Wind Power Plant (PLTB) ) tower height is higher than Sidrap Wind Power Plant (PLTB). Blade is also longer than Sidrap. The Tolo Wind Power Plant (PLTB) tower is higher than Monas," said Arcandra.
Karaeng Oil and Gas Block will be studied in more detail
After visiting the Tolo Wind Power Plant (PLTB), Arcandra conducted a review of locations indicated to have potential for hydrocarbon reserves, namely outcrop in Karompang Pajja Beach, Tamalatea District, Jeneponto Regency.
The location is part of the Karaeng oil and gas block which was offered through the Regular Auction mechanism in 2018. Until the offer ends, no investor has made an offer for the Karaeng block.
When conducting a review of the location, Vice Mayor Arcandra said that there would be additional data for the Karaeng block through a joint study.
"This visit looks at the potential of the oil and gas sector, especially the Karaeng Block in Jeneponto Regency. From the data presented, it is quite promising. We also discussed it, starting next week, God willing, there will be a joint study to see more potential," said Arcandra .
It is planned that one of the Oil and Gas Cooperation Contract Contractors (KKKS) operating in the South Sulawesi region will conduct a joint study to further explore the existing potential while at the same time adding data.
"We will add data through a joint study. Hopefully, the administration process and others will start next week. Hopefully after the joint study there is hope that there is a true potential for oil or gas," said Arcandra.
The Ministry of Energy and Mineral Resources, explained Arcandra strongly supports efforts so that what is called fair energy can be enjoyed by all Indonesian people. (k)