EMR Communication Team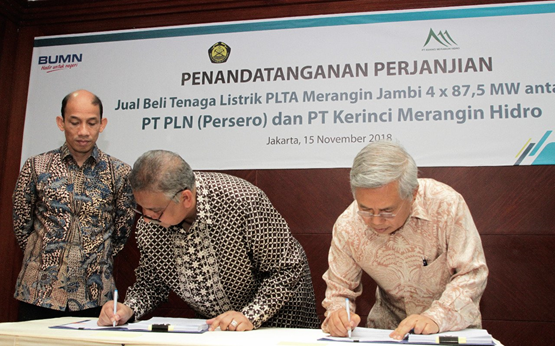 JAKARTA - The Deputy Minister of Energy and Mineral Resources (ESDM) Arcandra Tahar, Thursday (11/15) witnessed the signing of the Electricity Purchase Agreement (PJBL) between PT PLN (Persero) and the Power Plant Independent Power Producer / IPP Hydro Power Plant (PLTA) Merangin. The signing was carried out by PLN Managing Director Sofyan Basir with President Director Krinci Merangin Hidro Achmad Kalla.
The Merangin Hydro Power Plant (PLTA), which has a capacity of 350 megawatts (MW), completes the 3 signing of the previous PJBL EBT with a capacity of 11.9 MW. Thus, in 2018 4 PJBLs were signed sourced from Renewable New Energy (EBT) with a total capacity of 361.9 MW.
Arcandra appreciates the steps taken by PLN to carry out significant progress in carrying out the mandate to provide affordable electricity for the community.
"We from the ministry are very grateful that this collaboration could finally be signed through one of the steps to sign the PPA (Power Purchase Agreement)", said Arcandra.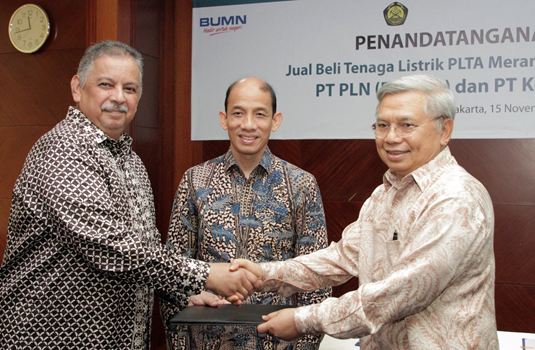 The government continued Arcandra, very supportive and fully committed to the development of new renewable energy (EBT).
"Believe that the government is very committed to building EBT. If there are things related to tariffs that have not yet reached an agreement, it does not mean that the government is loose hands and does not care about the development of EBT," Arcandra continued.
With this PJBL, Arcandra hopes that this agreement is not just a paper signing, but a commitment in producing electricity. "The purpose of this event in my opinion is not to the paper containing the signing of the PPA but the ultimate goal is to produce electricity because we have produced a lot of paper and hopefully today is not the paper we produce but electricity," Arcandra said.
For information, PLTA located in Kerinci district, Jambi has a capacity of 4 x 87.5 MW which is designed with a peaker system operating pattern, which will run when electricity demand is high.
Director of PT PLN (Persero) Sofyan Basir explained that achieving this stage required a long time and this was part of PLN's commitment.
"It's a very long process, it's been a long time, but it's grateful to be finished at the moment. Of course Hopefully this plant is part of the peaker support for Sumatra. Some networks already exist so that they can carry energy from south to north. Hopefully this project can be completed according to schedule, "said Sofyan.
The Merangin Hydro Power Plant will be used as a peaker generator, this is aimed at reducing the burden on PLN's peasants in Sumatra who are still using gas and diesel generators, where the price is quite high. Hydro power plants were also chosen as peakers because they have a high speed of entry into the system compared to coal plants.
The total investment that will be released from the Merangin hydropower project is USD 903,703,300 or equivalent to Rp. 13.4 trillion. (sk)