Public Relations EBTKE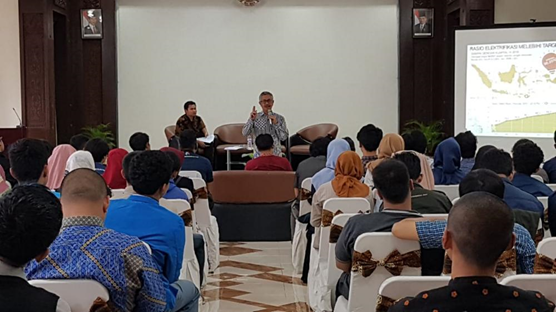 MALANG - The government believes that the development of new energy and renewable energy (EBT) can be implemented well with the support of all parties, including among academics. This was confirmed by the Secretary of the Directorate General of New, Renewable and Energy Conservation, Wawan Supriatna at the 2018 Brawijaya Machine Creativity National Seminar held by the Student Engineering Association Brawijaya University (UB) on Friday (11/16). "The development of EBT and the implementation of energy conservation is not only the duty of the Government, but the involvement of the world of education and the business world is also very much needed," he said.
Wawan revealed that new, renewable and energy conservation is not an option but a necessity and requirement for national energy sustainability and sustainability. EBT development is expected to be able to increase energy supply equivalent to 45 GW by 2025, accelerate the provision of modern energy access to achieve the electrification ratio target of 99% by 2019, contribute to the reduction of greenhouse gases by 29% by 2030, and contribute to National Non-Tax Revenue (PNBP) and Foreign Exchange Savings.
In an effort to achieve these targets, it is undeniable that the implementation of EBT development is faced with several challenges, including challenges related to environmental issues and social issues that arise over the impact of environmental issues, such as the rejection of the surrounding community due to the geothermal potential that generally located around conservation forest areas which are feared to damage ecosystems, soil conditions, and water sources.
Meanwhile, according to Law Number 21 of 2014 concerning Geothermal Energy, the implementation of geothermal activities adheres to the principle of "sustainable" and "preservation of environmental functions", which means that the implementation of geothermal energy must be managed properly so that it can produce energy continuously with constant pay attention to and maintain the continuity of the carrying capacity and capacity of the environment while maintaining the continuity of the energy itself. In terms of regulation, both the laws and regulations in the geothermal field and the legislation in the field of environment, have taken into account and prioritize environmental aspects. Likewise with other EBT developments and the implementation of energy conservation.
"The government hopes that students and academics help provide understanding to the general public about the importance of developing EBT and the implementation of energy conservation, especially regarding environmental issues, because academics are one of the government's strategic partners," concluded Wawan. (sk)