The inauguration of one price BBM compact gas station in Loksado is the 96th point out of a total of 160 points targeted by the government until the end of 2019.
Loksado District in HSS is about 100 km from Banjarmasin which is the Capital of the Province of South Kalimantan. To get to Loksado, you can take it by land by taking about 3 hours from Banjarmasin.
Alfon Simanjuntak, BPH Migas Director of Patuan Oil and Gas at the same time inaugurating the one-price BBM in HSS, said that the inauguration was a manifestation of the government's concern for the people in the regions who had not enjoyed the same price as in Java.
In addition, he also appealed to the community together with the local government to participate in supervising the availability and distribution of fuel at a price in the region. "This is to be right on target and not be misused. There must be no industry and individuals who enjoy the one-price BBM program for personal gain," said Patuan.
HSS Deputy Regent Syamsuri Arsyad in his remarks representing the HSS Regent Achmad Fikry welcomed the operation of one price compact BBM gas station in his region.
He hopes that with the one-price BBM program in HSS it can boost the economy of the community and make it easier for people to get cheaper fuel prices.
"Hopefully with the construction of the gas station, it can provide convenience for residents of Loksado to meet the fuel needs at the same price as gas stations in other places," said Syamsuri.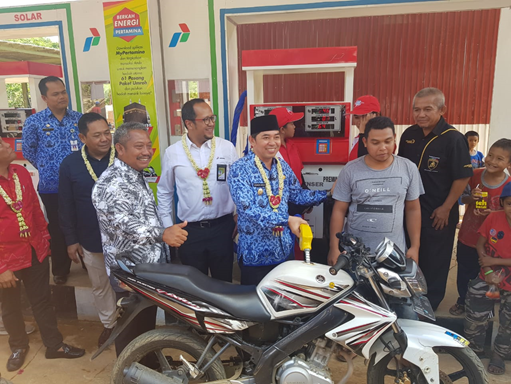 Before the one-price BBM program, people in Loksado bought fuel at an average retail price of Rp. 9,000 - Rp. 10,000 per liter for Premium and Rp. 7,000 - Rp. 10,000 per liter for Biosolar depending on retail stock.
With the inauguration of this Compact Gas Station, the people of the interior of South Kalimantan can enjoy BBM at the same price as in other regions in Indonesia, namely for Premium prices of Rp. 6,450 per liter and for Solar at Rp 5,150 per liter.(sk)