Public Relations EBTKE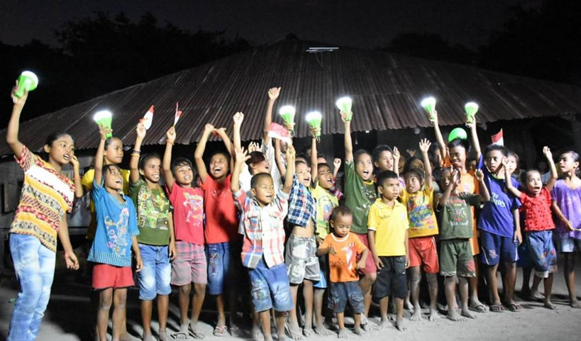 SUMBA TIMUR - Overflowing excitement and expressions of joy were clearly illustrated in the faces of the children of Ketikupelang Hamlet, Patawang Village, Umalulu District, East Sumba Regency. Their homes are now bright because Energy-Saving Solar Lights (LTSHE) are present in their homes, solar panels as suppliers of lighting power have also been installed on the roof. Children can now move at night to study, which previously had never had any activity at night because of the darkness and the distance between residents' homes.
Residents of Ketikupelang Hamlet, Wuryana also expressed happiness with the presence of lights in their homes and hamlets. "It's great because we used the lamps before we had to buy kerosene up to six thousand liters, now we are also passionate about weaving again, with the lights, we can work at night, weaving can be finished quickly" he said.
So far the Ketikupelang Hamlet has no electricity due to the condition of the area in the hilly area. While other hamlets in the same village, Patawang Village, namely Retinimbu Hamlet, Hambalalang and Muripado, have enjoyed electricity. Access road to Ketikupelang Hamlet from the village center in the form of rocky land, occasionally crossing the stream to reach the hamlet surrounded by cliffs.
One of the areas for installing LTSHE in 2018 is Sumba Island, with a total of 2,024 units of LTSHE installed, spread over 2 (two) districts namely East Sumba Regency 1,490 units in 9 Villages and Central Sumba 534 units in 8 Central Sumba Villages 534 units in 8 villages. The number of LTSHE installed in the Ketikupelang Hamlet which is included in East Sumba Regency is 80 units.
The Ministry of Energy and Mineral Resources Representative, Expert Staff of the Minister of Energy and Mineral Resources in the Field of Natural Resources, Dadan Kusdiana was present at Patawang Village Hall to interact with the Ketikupelang Hamlet community and symbolically hand over the LTSHE package. Also accompanying Dadan, Special Staff of the Minister of Public Communication, Hadi M. Djuraid and Minister of Expertise for the Acceleration of Infrastructure Development, Simon L Himawan. "Please take care this lamp, do not lose it, and this LTSHE should not be sold, because every lamp has its own serial number, it will soon be discovered if sold" explained Dadan. He continued, if the lights were damaged, residents could exchange the LTSHE unit, with a warranty period of 3 years. It is expected that after that, the electricity can enter the Ketikupelang Hamlet.
The community representative who received the LTSHE package, Village Head Frid Anamela revealed, "We thank the President and the Ministry of Energy and Mineral Resources for providing us with assistance here, I have warned the residents to take good care of this item," Frid said.
Distribution and Installation of LTSHE is one concrete manifestation of accelerating the provision of physical access to the community. The LTSHE installation program is one part of the national program to provide lighting for residents who are still in complete darkness using the State Budget of Ministry of Energy and Mineral Resources. Until the end of 2018, as many as 175 thousand LTSHE units will be distributed to residents who have never felt access to electricity in 16 provinces in Indonesia, focused on lighting up eastern Indonesia. The target is that in 2019 there will be no more dark houses. (sk)