EBTKE Public Relations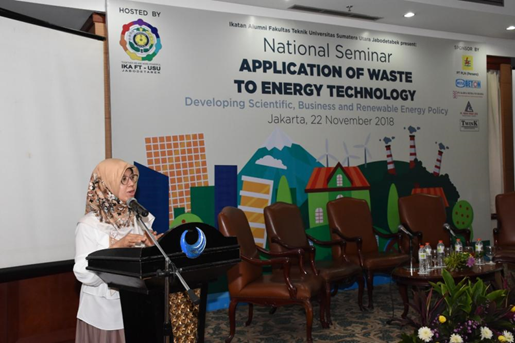 JAKARTA - Currently the Government is increasingly paying attention to the use of waste as an energy source through the use of certain technologies. Waste produced by the community can be one of the energy sources that can be developed for use and is estimated to be able to produce a potential of around 2000 MW.
"We realize that waste has the potential of biomass energy that we can convert into other energy. One of them can become electricity, but it is also an opportunity for us to use biofuel," said Director of Bioenergy, Andriah Febby Misna when delivering a speech at the National Seminar entitled Application of Waste to Energy Technology held by the Alumni Association of the Faculty of Engineering, University of North Sumatra on Thursday (11/22) in Jakarta.
Febby said that the increase in population growth led to an increase in the volume of community waste, the limited capacity and age of existing landfills (TPA), and the establishment of several regions as emergency waste areas were some of the important factors in the development of waste in Indonesia.
"If we look at municipal waste, there will be as much as 2000 MW that we can generate from waste. Some cities do have a large amount of waste," he added. From the results of a survey conducted by the Government, there are around 15 cities that have large amounts of waste, including DKI Jakarta with potential waste that can reach 7000 tons per day, followed by Surabaya, Bandung and Bekasi.
There are several technologies that we can use to treat waste which we can later use to become gas, pellets (which can replace coal), and biofuels. The utilization depends on the technology used and it is recognized that waste management technology is still quite expensive.
In terms of regulation, the Government has sought a number of regulations as a legal umbrella for the development of a waste power plant. "Among them is the Law Number 30 of Energy in 2007, which is our umbrella in developing EBT. Then there is also Law number 18 of 2008 concerning Waste Management, then there is Government Regulation number 79 concerning KEN, where our targets increase the contribution from EBT, one of which is from Bioenergy. Then we also have Government Regulations related to national strategic projects, where the Waste Power Plant is one of these national strategic projects, "said Feby.
"Yesterday we also revised Perpres number 35 regarding the acceleration of the construction of the Waste Power Plant program, which in this regulation is governed by cities which are accelerated targets for waste management. The problem is also the price of waste power plants. "ESDM number 50 of 2017 concerning Utilization of EBT Sources for electricity, which in this regulation also regulates one of the sale and purchase prices of power plants which are made from waste," said Febby.
Feby explained that according to Minister of Energy and Mineral Resources number 50 of 2017, the mechanism for purchasing this waste power plant is regulated by direct appointment, where if the local BPP is bigger than the national BPP average, the electricity purchase price is 100% maximum from the local BPP . While for regions where the local BPP is below the average National BPP Generator, the selling price is an agreement between the parties.
"We already have a commitment to reduce greenhouse gas emissions by 29% by 2030. It is hoped that we can use this waste to become energy, so we can also reduce the use of fossil energy that we use for electricity, as well as for biofuels, "closed Febby. (sk)a