| Public Relations EBTKE |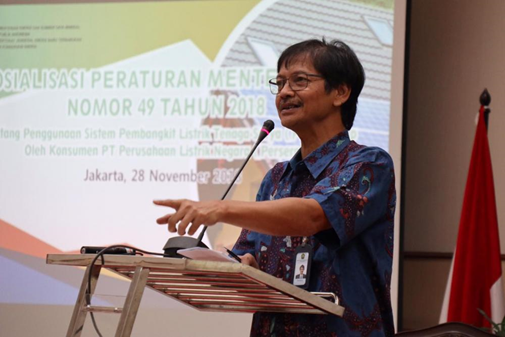 JAKARTA - The Ministry of Energy and Mineral Resources (ESDM) officially issued the new regulation regarding the implementation of the Rooftop Solar Power (PLTS Atap) system, ESDM Ministerial Regulation Number 49 of 2018 concerning the Use of Solar Rooftop Power Generation Systems by Consumers of State Electricity Company ( PT. PLN Persero). This rule is intended to open opportunities for all consumers of PT. PLN (Persero) both from the household, business, government, social and industrial sectors to participate in the utilization and management of renewable energy to achieve energy security and independence, especially solar energy.
"Today we are talking about decentralization to consumers, which were only PLN producers but now consumers can be producers, this transaction will grow rapidly in the future, PLN needs to see the Rooftop Solar Power (PLTS Atap) policy as a promising business opportunity," said Director General of Electricity, Andy Noorsaman Sommeng, on his remarks at the Socialization of the Minister of Energy and Mineral Resources Regulation No. 49 of 2018 today (11/28) in the office of the Director General of Electricity.
Present on the same occasion, Director General of EBTKE, Rida Mulyana said that the Minister of Energy and Mineral Resources strongly supports the development of new and renewable energy and increased energy efficiency and encourages the use of environmentally friendly energy. "Rooftop Solar Power (PLTS Atap) is currently popular and growing rapidly, because its implementation is easy, simple and the capacity is easily regulated according to the availability of roof area, by installing roof PLTS on an grid, consumers can reduce their electricity bill costs significantly, at least 30%," concluded Rida.
In the panel discussion session, Director of Various New Energy and Renewable Energy, Harris explained that by implementing this roof PLTS system, in addition to reducing monthly electricity bills, there is a real participation of the community in developing new renewable energy and supporting the achievement of 23% EBT target in 2025. He continued, through this implementation, solar energy targeted at 6.6 MW could be accelerated, the solar energy industry could also be boosted, greenhouse gas reduction targets could be achieved, and of course there would be increased employment.
"By installing a rooftop solar power plant, it is actually not electricity sales, it doesn't feel right, what is prioritized is how we can reduce our electricity bills while maximizing efforts in reducing greenhouse gas emissions and supporting clean energy," Harris said.
The main points stipulated in this Ministerial regulation include general provisions, the use of a rooftop solar power system, calculation of export and import of electrical energy from the rooftop solar power system, construction and installation of roof solar power systems, reporting, other provisions and transitional provisions. In this rule, the capacity of the PLTS Roof System is limited to a maximum of 100% of the power connected Consumers of PT PLN, the capacity is determined by the total capacity of the inverter.
The majority of electricity produced by PLTS Atap PLTS is used alone, for excess electricity (excess power) will be exported to PLN with a multiplier factor of 65%, where customers can use energy deposits to reduce electricity bills the following month. Calculation of export-import of electrical energy from the rooftop PLTS customer will take effect January 1, 2019. (sk)