MINISTRY OF ENERGY AND MINERAL RESOURCES
REPUBLIC OF INDONESIA PRESS CONFERENCE
NUMBER: 0069.Pers / 04 / SJI / 2018
Minister Jonan Inaugurates General Electric Charging Station (SPLU) for Electric Cars, 6,500 General Oil Refueling Station (SPBU) Pertamina Asked to Use Renewable Energy
Minister of Energy and Mineral Resources (ESDM) Ignasius Jonan, today, Monday (10/12), inaugurated the Green Energy Station at the General Oil Refueling Station (SPBU) 31,129.02 owned by PT Pertamina (Persero), Kuningan, South Jakarta. With the concept of Green Energy, the gas station has now also provided a General Electric Charging Station (SPLU) for electric cars.
"I congratulate you on the new initiative from Pertamina to implement new renewable energy in Pertamina's business activities," Jonan said in his speech. Present on the occasion accompanied the Minister of Energy and Mineral Resources, Electricity Director General (Director General) Andy Noorsaman Sommeng, Pertamina Managing Director Nicke Widyawati, and Director General of Metal, Machinery, Transportation Equipment, and Electronics of the Ministry of Industry Harjanto.
Jonan said, in order to support environmentally friendly energy use, he hoped Pertamina's gas stations could utilize 25% of the gas station's electricity needs from renewable energy sources. "If possible, 6,500 gas stations that use the Pertamina logo all use solar panels, at least for lighting," Jonan ordered.
The presence of this low-emission electric car, according to Jonan, will be able to compete with conventional oil-fueled cars. "Electric cars will be made to compete with the combustion engine. Electric cars are not only the future of the nation but the future of the world, energy that is more environmentally friendly," he said.
Jonan advised, in the future implementation, SPLU provided by Pertamina should an efficient SPLU. "The SPLU is (later) to be searched for fast charging is less than 10 minutes, so people don't wait too long," said Jonan.
The presence of SPLU is one of the most important factors in supporting the sustainability of electric vehicles in Indonesia. In general, electric vehicle projects aim to improve the national energy security of the national energy by applying 4 (four) principles, namely Availability, Accessibility, Affordability, and Accessibility.
In addition, this project is expected to reduce environmental problems, due to reduced consumption of fuel oil (BBM) replaced with other energy sources, anticipating the depletion of fossil energy reserves from year to year due to an imbalance between the level of fuel consumption and the amount of production, and presenting more effective energy and efficient because electricity sources can be obtained from local primary energy, such as biomass, gas, geothermal energy, water, and wind.
At present, the Government is finalizing special regulations to accelerate the Electric Motor Vehicle program for road transportation, which is through the Draft Presidential Regulation (RPerpres). The draft regulation includes the regulation of electric motorized vehicles whose main drivers are using Electric Motors and obtaining electricity supply from Batteries or other Electric Energy Storage Media directly inside the vehicle or from outside, while hybrid vehicles follow the Low Carbon Emission Vehicle policy ( LCEV).
The provision of SPLU infrastructure will be carried out by a business entity in the energy sector that has an Electricity Supply Business License (IUPTL) which is assigned to PT PLN (Persero) for the first time and can cooperate with other state-owned energy companies. Regarding SPLU tariffs set out in Permen ESDM No. 28/2016 concerning Electricity Tariffs Provided by PT PLN (Persero) through regulation of Electricity Tariffs for Special Service Needs which can be considered as electricity tariffs between PT Pertamina (Persero) or PT PGN (Persero) for SPLU.
The Ministry of Energy and Mineral Resources along with technical agencies / ministries and stakeholders involved in the acceleration program of electric motor vehicles will form a team of technical committees to conduct discussions regarding SPLU infrastructure consisting of:
a. Charging facilities consisting of the installation of electrical power supplies and contact boxes and / or plugs; and
b. Battery exchange facilities or electrical energy storage media.
Head of Communication Bureau, Public Information Services, and Cooperation
Agung Pribadi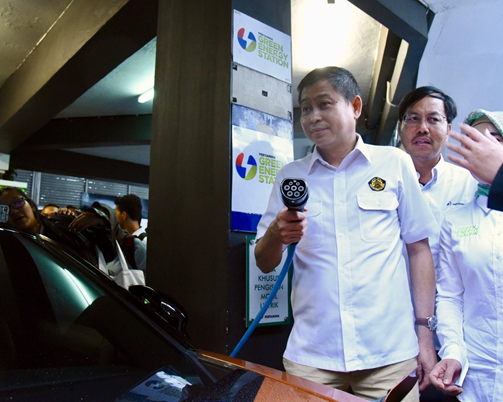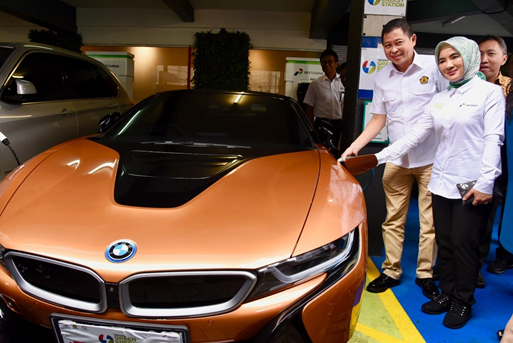 For further information, please contact
Head of Communication Bureau, Public Information Services and Cooperation
Agung Pribadi (08112213555)