| Public Relations EBTKE |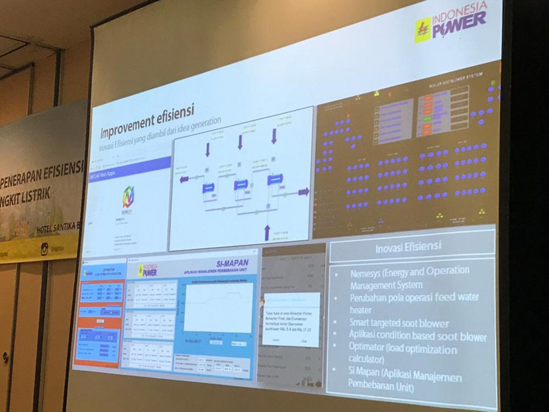 BOGOR - One of the steps to accelerate the implementation of energy efficiency, especially in the power sector, the Directorate General of EBTKE through the Directorate of Energy Conservation collected 47 generating units from units of PT. Pembangkitan Jawa Bali (PJB), PT Indonesia Power and PT. PLN in the Focus Group Discussion (FGD) activities held at Santika Hotel Bogor, Tuesday (11/12).
The FGD is intended to find out the potential savings and the role of the power generation sector in implementing energy efficiency in line with PP 70 of 2009. Based on Government Regulation No. 70 of 2009 concerning Energy Conservation, the Government requires energy users who use energy and / or energy sources greater than or equal to 6000 TOE per year to implement Energy Management, including in the Power Generation sector.
Based on Energy Management reporting data in 2017, 141 companies have reported their energy use. Of the 141 companies, 20 of them are power plants with savings of 19,810,516 GJoules / year and emission reductions of 1,746,732 tons of Co2 / year.
In this discussion forum, the success story of PT Indonesia Power UP Pelabuhan Ratu and PT. PJB UP Gresik in implementing Energy Management in the generating sector. Through continuous energy efficiency measures recorded in the period (2014-2017) PT Indonesia Power UP Pelabuhan Ratu can obtain savings of 8,612,298.30 GJoules (equivalent to Rp370,332,943,771) with an investment value of Rp136,121,600,781, while PT. PJB UP Gresik was recorded in the period (2014-2017) to make savings of 4,956,509.93 GJoules (equivalent to Rp135,749,008,720) with an investment value of Rp.46,662,890,820. Efforts to reduce energy use are carried out through the application of Energy Management (ISO 50001). One of the important points of the success of the two companies in implementing energy efficiency is the leadership commitment (Management) and the participation of all employees. These efficiency measures are expected to be replicated in other plants.
Through this forum, it is expected to be able to encourage a joint commitment to implement Energy Management in the power generation sector and to agree on the support that the ESDM Ministry can provide in supporting this. As a follow up to this FGD activity, the Forum for Energy Efficiency Implementation in the Generating Sector will be initiated as a forum for exchanging information and increasing commitment in the field of Energy Efficiency. (sk)