| Public Relations EBTKE |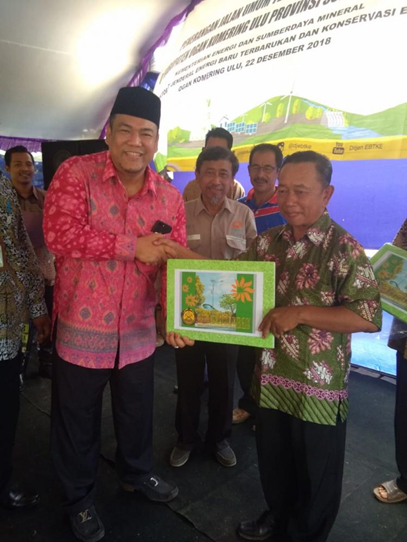 OGAN KOMERING ULU - Seven villages in Lubuk Raja Sub-District, Ogan Komering Ulu (OKU) Regency, South Sumatra Province finally have public street lighting at night with the completion of 50 Solar-Street Public Lighting (PJU-TS) units in the area. The construction of the PJU-TS includes the Batu Winangun Village, Batumarta Village Unit 1, Batumarta Village Unit 2, Martajaya Village, Lubuk Banjar Village and Lekis Rejo Village with 7 points each, and Baturaden Village with 8 points.
PJU-TS is a street lighting that uses sunlight as a source of electrical energy, so it becomes a solution to be used on roads in areas that have not been reached by PLN electricity or in areas that have been electrified by PLN, but want to reduce electricity consumption in their regions. The proposal for the construction of the PJU-TS can be submitted by the local Regency Government as ESDM Minister's Regulation Number 12 of 2018 concerning Amendments to the Minister of Energy and Mineral Resources Regulation No. 39 of 2017 concerning the Implementation of Physical Activities for the Use of New Energy and Renewable Energy and Energy Conservation.
The seven villages that get the PJU-TS are located in the Lubuk Raja District area which has not been touched by a street lighting facility and takes about five hours from Sultan Mahmud Badaruddin II International Airport, Palembang. The government hopes that the PJU-TS which has been completed 100 percent in 2018 can support the social economic activities of the Lubuk Raja community.
"We hope that with the construction of the PJU-TS it can be a trigger so that economic development can run faster," said a Member of the National Energy Stakeholders Council (AUPK DEN), Achdiat Atmawinata when meeting the people of Batumarta Unit Village last week (Saturday, 22 / 12). "We hope that the infrastructure - infrastructure that has and will be built, can be managed and maintained by the Regional Government and also by the community, so that the benefits can be felt by the community for a long time," concluded Achdiat. (sk )