| Public Relations EBTKE |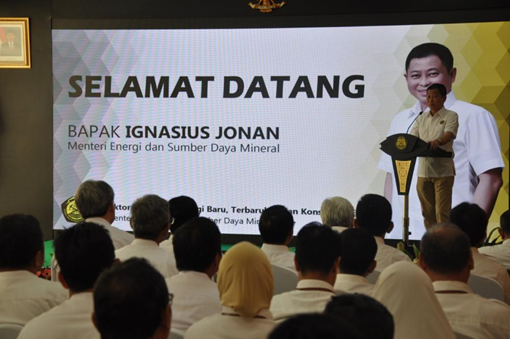 Jakarta - Minister of Energy and Mineral Resources (ESDM) Ignasius Jonan appreciates the implementation of the Energy-Saving Solar Lamp Program (LTSHE) that has been implemented for the past two years under the coordination of the Directorate General of New Energy, Renewable and Energy Conservation (DG EBTKE).
"For the LTSHE Program, I am very grateful for helping 172,000 homes, at least there is a lighting ," said Minister Jonan when giving direction to the Senior High Leaders, Primary High Leaders and Administrators in the Directorate General of EBTKE, Mineral and Coal Directorate General and Electricity Directorate General ( Thursday, 1/3). "That's what in my opinion, the biggest achievement of the EBTKE last year was LTSHE, which was appreciated by the public, the President and everyone. Because we have provided lighting facilities for free to 172,000 homes," he continued.
LTSHE itself is a breakthrough program of the Government in illuminating the people who have not yet gained access to electricity, especially in villages that are still completely dark, with numbers reaching more than 2,500 villages throughout Indonesia. This program is one of the instruments to ensure that all communities get access to energy as an effort to realize equitable energy for all the people of Indonesia.
This year the ESDM Ministry targets LTSHE to be distributed to 15 provinces in areas that are isolated and difficult to reach by the PLN network. The state budget allocated is around Rp600 billion.
Furthermore, Minister Jonan emphasized that the LTSHE Program will continue to be carried out because one of the programs is directly felt by the community. The LTSHE package will be distributed to beneficiaries in border areas, under development areas, isolated areas and front islands or far from the reach of the PLN. This is a manifestation of Nawacita Jokowi-JK in particular the 3rd Nawacita, building Indonesia from the periphery by strengthening regions and villages within the framework of a unitary state.
In addition to the LTSHE Program, Minister Jonan also targets the development of Crude Palm Oil (CPO) based Power Plants, the development and implementation of Green Diesel, and the diversification of wind power. According to him, all of these programs are the most obvious program results. At the same opportunity, Minister Jonan reminded leaders in the Ministry to be the right leaders by paying attention to the right policy choices for the organization and priority work programs. Minister Jonan invited all of his staff to interpret the writing of one of Napoleon Bonaparte's quotes, where the way of working and the policy of the leader determines how the employees work and fight to get the best performance. (sk)