| Public Relations EBTKE |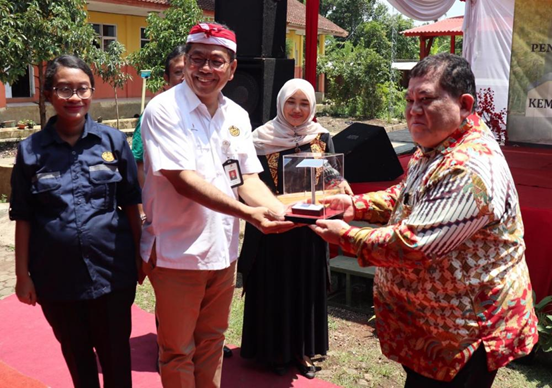 Cianjur - The Ministry of Energy and Mineral Resources (ESDM) again handed over the assistance of the Solar Street Public Lighting (PJU-TS) to the community, namely Cianjur Regency and Bogor City. The handover was carried out by the Deputy of Finance and Monetization of SKK Migas, Parulian Sihotang on Thursday (10/1) in Ciharashas Village, Cilaku Subdistrict, Cianjur Regency.
In 2018, PJU-TS was built at 200 points in Cianjur Regency and 100 points in Bogor City, which were spread on the main regency / city, village, and Islamic boarding schools. The construction of the PJU-TS in Cianjur Regency and Bogor City was a proposal from the Cianjur Regency Government and Bogor City which was initiated by Joko Purwanto as a member of the House of Representatives Commission VII.
"Cianjur Regency and the City of Bogor, whose topography consists mainly of highlands and mountains, make Cianjur Regency and Bogor City one of the leading tourism destinations in West Java, so that the establishment of the PJU-TS is expected to further enhance existing tourism potentials. , "said Parulian. "And of course it will provide security and comfort for the community when doing activities at night," he added
PJU-TS is a street lighting that uses sunlight as a source of electrical energy, so it becomes a solution to be used on roads in areas that have not been reached by PLN electricity or in areas that have been electrified by PLN, but want to reduce electricity consumption in their regions.
"Before there was a PJU lamp, the activities of the people were still running, but now thank God the community felt helped because there were points that had poor lighting in our village," said the Head of Ciharashas Village, Jakarta. "Previously there was PJU infrastructure, but at a certain point, after there was assistance, it immediately felt because it was already in the village.
"The influence that is usually afraid of leaving the city due to darkness, so that patrols can be run so it will be good," he continued. )
Jakarta also hopes that the central government will add more construction of PJU-TS in its area because there are still many points that have not been enlightened and plan to add more. (sk)