| Public Relations EBTKE |
MINISTRY OF ENERGY AND MINERAL RESOURCES
REPUBLIC OF INDONESIA
PRESS CONFERENCE
NUMBER: 0063.Pers / 04 / SJI / 2019
Date: January 18, 2019
Launching of Electric Pedicab at UGM, Jonan: Producing More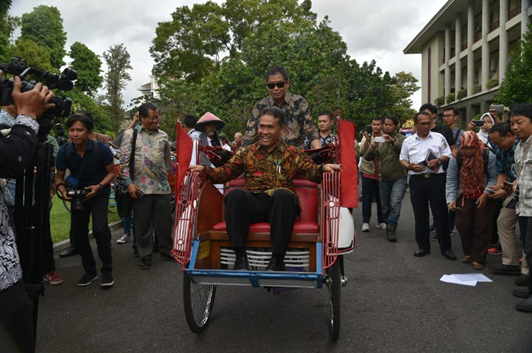 With the increasingly advanced electric vehicle technology, utilization can be applied to existing conventional vehicles. This was expressed by Minister of Energy and Mineral Resources (ESDM) Ignasius Jonan when launching Electric Pedicab from the collaboration between Gadjah Mada University (UGM) and PT PLN (Persero).
"The important thing is the one who operates the pedicab. aAt this time," there are still people who ride the pedicab, "explained Jonan at the UGM Campus, Yogyakarta, Friday (1/18).
Electric vehicles continue Jonan, will reduce pollution and certainly be more environmentally friendly.
"This is so that pollution can be suppressed, indeed electricity is generated partly from coal plants, but will not exceed the combustion engine, vehicle engine," said Jonan.
The making of this electric rickshaw is expected to be further developed and produced more. From an economic standpoint, electric rickshaws can also be a tourist attraction.
"I recommend that after making an electric pedicab be continued by cooperating with our industry so that we can produce more. I am sure the Governor of DIY or other Governors will make regulations so that the electric pedicab runs, because it can be used for tourism and will not delete existing jobs. So this electric pedicab is not only more human and also about the environment, "explained Jonan.
Jonan also revealed that the latest developments in regulations related to electric vehicles are currently entering the finalization stage.
"The latest update regarding the regulation of electric vehicles, will soon be finalized with incentives if we build the electric car industry in Indonesia, with the hope that the price of electric cars will be able to reach or at least be able to compete with conventional vehicles. import duties, taxes also regulate what capacity and target are what and etc "said Jonan.
Previously, the Minister of Energy and Mineral Resources also witnessed the signing of a Memorandum of Understanding between the ESDM Research and Development Agency and UGM on Education, Research and Development and Community Service in the ESDM Sector.
Jonan appreciated UGM's initiative to build cooperation with the ESDM Research and Development Agency. According to him, the campus world needs to synergize with the Ministries and institutions in the development of Renewable Energy (EBT). This memorandum of understanding is expected to be realized soon in the form of real activities and useful for people's lives.
"Do not let this Memorandum of Understanding without results, what is planned, immediately realize," said Jonan.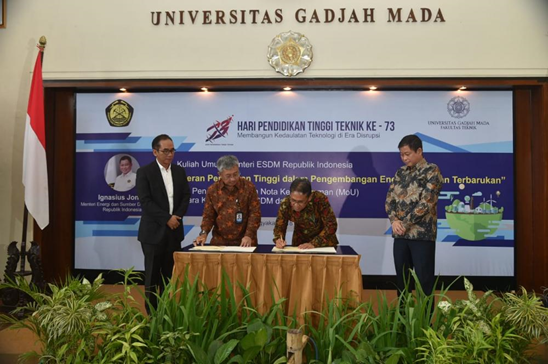 UGM Chancellor, Panut Mulyono expressed his gratitude to the Minister of Energy and Mineral Resources for giving the opportunity to be able to work together in the ESDM sector.
"Thank you for the role of the Ministry of Energy and Mineral Resources, which can encourage campus research in developing EBT and the oil and gas world".
The scope of the Memorandum of Understanding between the ESDM Research and Development Agency and UGM is as follows:
1. Education sector in the energy and mineral resources sector;
2. Field of research and development of energy and mineral resources;
3. Community service sector;
4. Exchange information and science; and
5. Other activities agreed upon by the parties. (sk)
Head of Communication Bureau, Public Information Services, and Cooperation
Agung Pribadi (08112213555)