EMR Communication Team
MINISTRY OF ENERGY AND MINERAL RESOURCES
REPUBLIC OF INDONESIA
PRESS CONFERENCE
NUMBER: 0071.Pers / 04 / SJI / 2019
Date: January 23, 2019
Entering the Rainy Season, People Around Mount Agung (Bali) Are Asked to Beware of Cold Lava Flow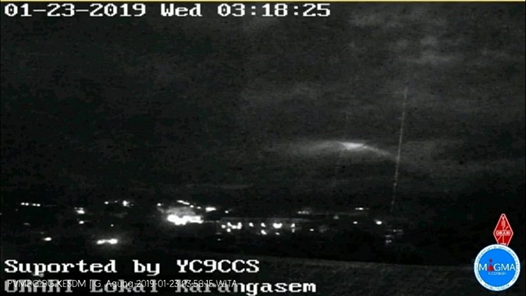 JAKARTA - Until January 23, 2019, the Center for Volcanology and Geological Disaster Mitigation (PVMBG), the Agency for Geology, Ministry of Energy and Mineral Resources (ESDM) concluded that Mount Agung activity status is still at Level III (Warning) with hazard zone estimation recommendations located throughout area within a 4 kilometer radius (km) from the peak. The estimated hazard zone is dynamic and continues to be evaluated and can be changed at any time to follow the latest / most recent Mount Agung observation data.
Entering the rainy season as it is now, PVMBG asks people who live and move around the rivers which are upstream in Mount Agung to be aware of the potential secondary hazard in the form of rain lava flows which can occur especially in the rainy season and if eruption material is still exposed in the area peak. The land area of the rain lava follows the upstream rivers in Mount Agung.
The Gunung Agung Observation Post notes, the seismic status of Mount Agung through recording seismographs on January 22, 2019 recorded 1 eruption earthquake, 4 times shallow volcanic earthquakes, 1 earthquake blowing, 1 local Tectonic earthquake, 1 felt earthquake (scale II MMI) and 5 times the Far Tectonic earthquake.
The seismicity of January 23, 2019 (00: 00-06: 00 WITA) recorded 1 eruption earthquake, 1 time the earthquake blew and 1 time the Shallow Volcanic Earthquake.

Visual observation from yesterday until this morning the volcano was covered in fog, weak winds to moderate east and west. It was observed that the main gray crater smoke with a thickness of about 2,000 meters from the peak.
Although relatively not experiencing high activity, PVMBG still asks the people around Mount Agung and climbers, visitors, tourists not to, not to climb and not do any activities in the Estimated Hazard Zone, which is in all areas within a 4 km radius of Mount Agung's Crater. This Level III (Warning) status is emphasized that PVMBG only applies within a 4 km radius as mentioned above, outside the area the activity can run normally and still be safe, but must keep vigilance. (sk)
Head of Communication Bureau, Public Information Services, and Cooperation
Agung Pribadi (08112213555)