EMR Communication Team
MINISTRY OF ENERGY AND MINERAL RESOURCES
REPUBLIC OF INDONESIA
PRESS CONFERENCE
NUMBER: 0075.Pers / 04 / SJI / 2019
Date: January 24, 2019
Arcandra Asks Young Generation Not to Argue Based on Issues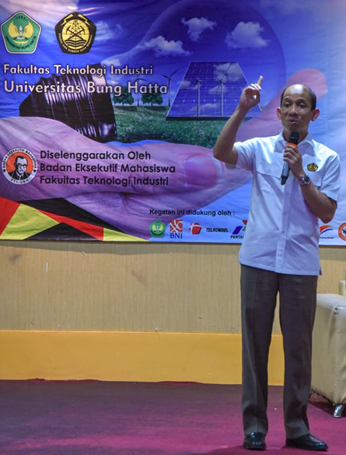 In 2018, Indonesia has an installed capacity of the Geothermal Power Plant (PLTP) reaching 1,948.5 mega watts (MW). With these achievements, placing Indonesia in the second position in the world after the United States in utilizing geothermal energy as electricity.
Geographically, Indonesia has around 500 volcanoes, of which 127 are active volcanoes, making Indonesia has enormous potential in developing geothermal energy.
Deputy Minister of Energy and Mineral Resources (ESDM) Arcandra Tahar stressed that the Government encourages every region to always see the potential of existing local wisdom to meet its energy needs, especially new renewable energy. Arcandra also requested that the young generation not only believe in issues that are not true and cannot be accounted for.
To find out the truth that geothermal energy is environmentally friendly or not, there needs to be openness and learning correctly what is geothermal "We believe or not if geothermal is environmentally friendly,
If you believe, let's find a way out, but if we don't believe how we can find a way out, not just seeking justification, "said Arcandra when delivering a Public Lecture at Bung Hatta University, Padang, Thursday (1/24).
For this reason, Arcandra advised the young generation to change their mindset, open their minds far ahead and do something tangible and useful for the people. "I suggest to the young generation, other people have been thinking far, but we are still talking about environmentally friendly or not," said Arcandra.
On the same occasion, West Sumatra Governor Irwan Prayitno said that West Sumatra Province had declared it a green energy barn. At present, around 36 percent of the energy used in West Sumatra comes from renewable energy or higher than the national average.
Irwan appealed to students who were present to take part and think about any technology or technique so that the gifts they possessed could be used for the benefit of the community as gratitude to God. "So we are like we are still not grateful, because it is wasteful, before the eyes is a spectacle without taking advantage, even though we can develop it," said Irwan. (sk)
Head of Communication Bureau, Public Information Services, and Cooperation
Agung Pribadi (08112213555)