| Public Relations EBTKE |
MINISTRY OF ENERGY AND MINERAL RESOURCES
REPUBLIC OF INDONESIA
PRESS CONFERENCE
NUMBER: 0084.Pers / 04 / SJI / 2019
Date: February 1, 2019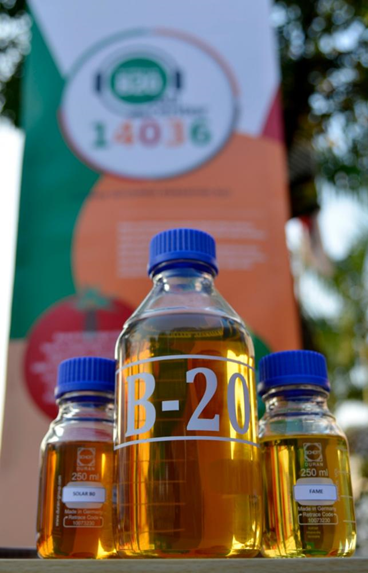 Hold Increase of Fuel Oil Prices, Government Strengthen of Green Energy from Palm
The Ministry of Energy and Mineral Resources (ESDM) has begun to boost the use of green fuel from crude palm oil (CPO) in 2019. This is a follow-up of the Government's focus in holding back the high rate of Fuel Oil (BBM) consumption.
The presence of green energy will have a positive impact on Indonesia, especially for the achievement of the renewable energy mix of 23% by 2025. To realize this, the Government has worked on the transportation sector through the application of a mandatory mixture of 20% biodiesel (B20) methyl ether / FAME in Fuel Oil (BBM) has been rolling since last September 2018.
The government also targets the level of CPO usage to reach 13 million kiloliters or 235,247 barrels perday (bph) in 2025. Especially for the past year, the realization of biodiesel production has reached 6 million kiloliters or 108,576 bpd. This figure exceeds that targeted at 5.7 million KL in 2018. This positive trend was assessed by ESDM Minister Ignasius Jonan as a long-term investment opportunity for Pertamina through the development of a green refinery with a business scheme.
"For gasoline engine cars, if you want to combine ethanol, the availability is very minimal. For diesel-powered vehicles, the population is 2/3 so we encourage Pertamina to work together to make green diesel [Biosolar from CPO]," Jonan said when witnessing the signing of Pertamina's cooperation with Eni for CPO processing and the signing of the head of term sheet of joint venture agreement in Rome, Italy, Wednesday (1/30).
Pertamina - Eni, is oil and gas company from Italy, has strengthened cooperation between the two parties by signing 3 agreements. Two agreements related to the development of the Green Refinery, namely the Head of Joint Venture Agreement for the development of Green Refinery in Indonesia and Term Sheet CPO processing in Italy. This agreement is a continuation of the cooperation memorandum of understanding signed by Pertamina with Eni in September and December 2018.
While one other agreement is the MoU related to circular economy, low carbon products and renewable energy witnessed by Minister Jonan.
In addition to suppressing oil imports, added Jonan, the existence of a green fuel refinery will encourage consumption of domestic CPO, with a calculation of 200,000 barrels per day. That way, oil palm producers will get certainty of absorption of CPO in the country without having to depend on exports.
"Indonesian palm oil production is 46 million tons, while diesel oil needs 120,000 tons per day [800,000 barrels per day] if it is calculated in a year, the amount is around 36 million tons. This can increase the price of palm oil at a reasonable level," he added.
To ensure the stability of CPO prices, the Government is still formulating CPO price formulas such as Indonesian crude prices (ICP) in the same size equivalent.
So far, the Government has provided biodiesel subsidies to enter the economic scale. Subsidies for biodiesel are taken from CPO export levies collected by the Palm Oil Plantation Fund Management Agency (BPDPKS). (sk)
Head of Communication Bureau, Public Information Services, and Cooperation
Agung Pribadi (08112213555)