| Public Relations EBTKE |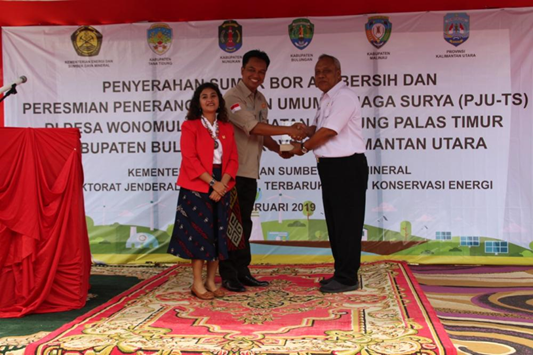 BULUNGAN - The Government through the Directorate General of New Energy, Renewable and Energy Conservation (DG EBTKE) of the Ministry of Energy and Mineral Resources (ESDM) has completed the construction of 285 Public Street Lighting - Solar Power (PJU-TS) in North Kalimantan. The infrastructure is symbolically handed over by the National Energy Council (DEN) Stakeholder Member (AUPK) Dwi Hary Soeryadi on Wednesday (2/13) in Wono Mulyo Village, Tanjung Palas Timur District, Bulungan Regency.
On the occasion, Dwi explained that the construction of PJU-TS in North Kalimantan Province in the 2018 budget year spread across 5 districts, namely Tarakan City 43 units, Tarakan District 65 units, Bulungan District 92 units, Nunukan District 55 units, and Malinau District 30 units "The construction of the PJU-TS in North Kalimantan is a form of cooperation between the Central Government and the Regional Government, in part the PJU-TS is a proposal from the House of Representatives Commission VII, Ms. Ari Yusnita, which is allocated in West Kotawaringin Regency, Central Kalimantan, electoral district of Mrs. Ari," continued Dwi .

Dwi also said that the construction of the PJU-TS is an effort of the Government in the provision of electricity in the form of lighting for areas that have not been reached by PLN electricity or areas that have been electrified by PLN but want to reduce the electricity consumption of their regions. Not only that, Dwi added, the provision of electricity for North Kalimantan Province is a concrete manifestation of the Government's presence in the area in the border region.

North Kalimantan is a province in Indonesia, located in the northern part of Kalimantan Island and directly adjacent to Malaysia. Historically, the establishment of the Province of North Kalimantan, which was separate from East Kalimantan, was to overcome the threat of loss of territory because border security faced constraints on the limitations of the apparatus, as well as the weakness of transportation infrastructure faced with too large areas (humas.kaltaraprov.go.id).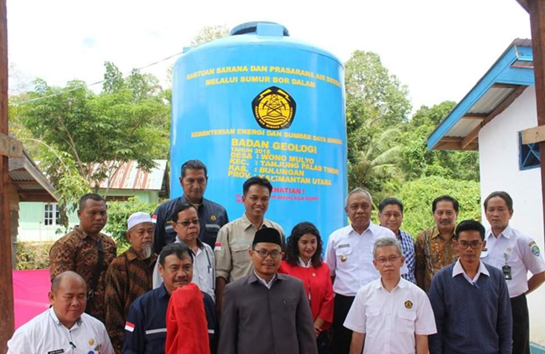 The presence of the PJU-TS, then is expected to provide great benefits for the community economy and support the implementation of the security of the Government of North Kalimantan Province. "The PJU-TS that has been built will be managed and maintained by the respective Regency Governments. I thank you for the support of all parties and I hope the PJU-TS can be utilized and cared for well, so that it can provide great benefits to improve people's lives and economy, "Dwi concluded.

On the same occasion, PJU-TS also symbolically handed over 21 artesian well units built by the Geological Agency in 2018, with clean water production capacity reaching 980,769 m3 per year to meet the needs of clean water for 42,768 inhabitants. (sk)