One Price of BBM (Fuel Oil) Present in Malinau, Minister of ESDM: To Grow Public Economy

The economic activity of the people of Malinau, North Kalimantan is projected to increase along with the presence of One Price Fuel Oil in the region. Now, the people of South Kayan, Malinau and the surrounding areas get both Solar and Premium fuel at a much cheaper price, which is Rp. 6. 450 per liter for the Premium type and Rp. 5.150 per liter for Solar. Previously, local residents who were mostly farmers and gardeners had to buy both Solar and Premium fuel at a price of around Rp. 15,000.
"Efforts to equalize energy through One Price Fuel Oil are an effort of the Government to be able to move economic sectors, including in Malinau which in fact enters region 3 T (Front, Outermost and Undevelopment)," said Jonan when inaugurating "BBM Satu Harga" (One Price Fuel Oil) in Kayan Selatan District, Regency Malinau, in Tarakan, North Kalimantan, Friday (2/15).

Ease of access is also another blessing for the Kayan community. Before the BBM One Price they had to travel more than 80 KM or about 5 hours by land just to get BBM (fuel and oil) . "This facilitates the economic life of the community so that it is better," said Jonan.
The supply of fuel at the Kayan Compact Gas Station will be supplied from Samarinda Fuel Terminal with a monthly allocation of around 50 Kiloliters for Premium and Solar as much as 36 KL. The gas station will serve around 568 households.
Jonan hopes that the Regional Government will provide support for the One Price BBM (fuel and oil) program. "We expect this support to the Regional Government because this is in accordance with the realization of the 5th precept," said Jonan.

The presence of gas stations in Malinau that serve the community at the same price in major cities in Indonesia adds to the list of the presence of One Price Fuel Oil in North Kalimantan.
In 2017, as many as 2 institutions offering One Price BBM (fuel and oil) have been built in Tanjung Palas Tengah District, Bulungan Regency and Krayan District, Nunukan Regency. Meanwhile, 5 BBM (fuel and oil) distributor agencies were present in 2018, namely in Sei Menggaris District, Nunukan Regency; Lumbis District, Nunukan Regency; Krayan Selatan District, Nunukan Regency and Sungai Boh District and South Kayan District, Malinau District. In 2019, the Government will again build 1 agency for distributing BBM Satu Harga in Tanjung Palas Timur District, Bulungan Regency.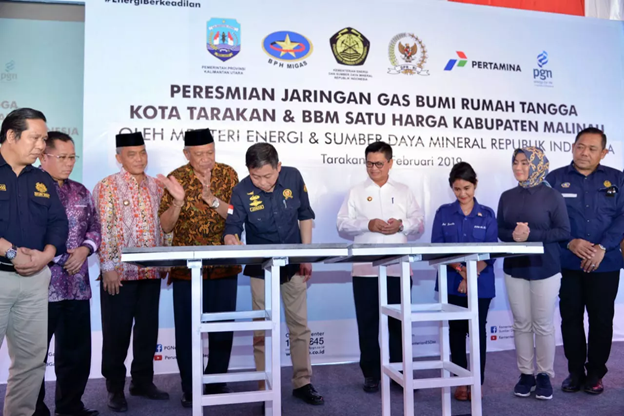 Nationally, from 2017 to 2019 there will be 170 suppliers of One Price Fuel Oil, in which PT Pertamina (Persero) has built 54 locations in 2017 and 68 locations in 2018. Meanwhile, PT AKR Corporindo 3 locations in 2017, and year 2018 as many as 6 locations. So that the total reaches 131 locations.
For 2019, it is targeted that 39 Distributors will operate by PT Pertamina, where 1 Distributor has been inaugurated in 2018, 2 dealers have tested operations and 1 Distributor by PT AKR Corporindo. Thus, up to now, there have been 133 One Price Fuel Oil Distributors in operation. (sk)

Head of Communication Bureau, Public Information Services, and Cooperation
Agung Pribadi (08112213555)