EMR Communication Team

MINISTRY OF ENERGY AND MINERAL RESOURCES
REPUBLIC OF INDONESIA
PRESS CONFERENCE
NUMBER: 0140.Pers / 04 / SJI / 2019
Date: February 19, 2019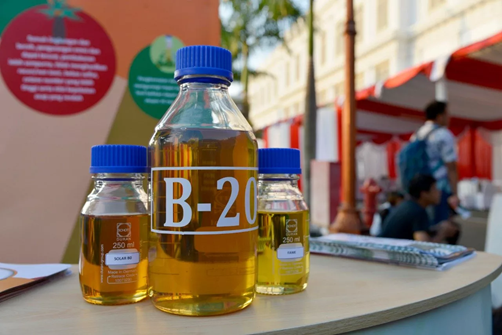 The level of demand for crude palm oil (CPO) is high, Utilization of Domestic Biodiesel Continues Boosted

Indonesia is considered to have a great opportunity in the development of bioenergy, especially biodiesel. This condition given the distribution of palm oil supply as raw material for biodiesel or Fatty Acid Methyl Ester (FAME) is quite adequate. The ESDM Ministry's Directorate General of Renewable Energy and Energy Conservation (EBTKE) noted that the processing capacity of crude palm oil in Indonesia reached 38,320 tons per hour from a total of 391 Palm Oil Mill (PKS).
"Bioenergy made from crude oil palm (CPO) is very potential to continue to be developed in Indonesia. There are at least 391 PKS spread across Indonesia with high levels of productivity," said the Head of the Communication Bureau, Public Information Services and Cooperation
(KLIK) Agung Pribadi, Ministry of Energy and Mineral Resources in Jakarta, Tuesday (2/19).

The PKS distribution, detailed Agung, is in the Sumatra region with 505 factories with a production capacity of 22,905 tons per hour, Kalimantan with 257 factories (13,989 tons / hour), Sulawesi 19 factories (890 tons / hour), Maluku and Papua 8 factories ( 485 tons / hour)
and 2 factories (50 tons / hour) on Java, Bali and Nusa Tenggara.

Agung considers that the potential of palm oil is in line with the Government's efforts to expand the bioenergy utilization policy in all sectors, especially the transportation and mining sectors, especially for the mandatory implementation of Biodiesel by 20% (B20) in fuel oil (BBM).

"Biodiesel utilization is one of the mandates that must be implemented. Moreover, from year to year CPO production is getting higher," Agung said.
In 2015, CPO needs reached 5.05 million kilo liters (kl) with a mandatory rate of 15%. This number continues to increase to 7.35 KL (needs) and 20% (mandatory) in 2018.

It is targeted that there will be 7.58 million kilo liters (kl) of biodiesel that will be needed in 2019 and 11.7 million kilo liters (kl) in 2020 with a mandatory level of 20% in 2019 and 2020.

In the past two years, the Government has continued to boost biodiesel utilization through the issuance of regulations concerning the expansion of Biodiesel incentives for the Non-PSO sector Minister of Energy and Mineral Resources No.12 Year 2018 concerning the Collection and Use of Palm Oil Plantation and ESDM Ministerial Regulation No. 41 of 2018 concerning the Supply and Utilization of BBN in the Type of Biodiesel in the Funding of the Palm Oil
Plantation Fund Management Agency (BPDPKS).


Not quit up there, the high absorption of the use of CPO to the total CPO production gives optimism for the Government to continue developing CPO for biodiesel. From 18% of the use of CPO for biodiesel in 2015, it is now 18% in 2018 and will reach 26% in 2020. "Along with increasing demand and developing technology, we can increase the application of this
biodiesel. We are optimistic and very possible," concluded Agung. (sk)

Head of Communication Bureau, Public Information Services, and Cooperation
Agung Pribadi (08112213555)