| Public Relations EBTKE |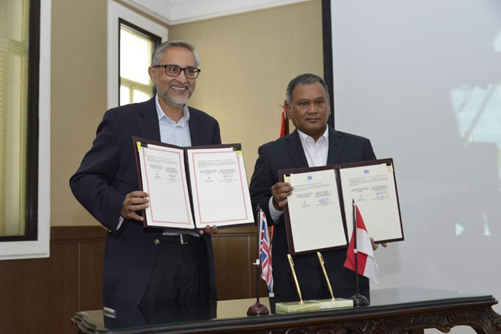 JAKARTA - In order to strengthen the commitment of the Indonesian Government in developing low-carbon energy, Secretary General of the Ministry of Energy and Mineral Resources (ESDM) Ego Syahrial signed a Memorandum of Understanding (MoU) between Indonesia and England in the field of Cooperation in Low Carbon Energy Development together with the British Ambassador to Indonesia, ASEAN and Timor Leste, Moazzam Malik, Wednesday (20/2)
The program that will be implemented under this MoU is the Prosperity Fund for Indonesian Renewable Energy and the Prosperity Fund for ASEAN Low Carbon Energy, with the following outline:

1. EBT development program to encourage private sector investment in increasing the share of renewable energy generation, in the form of a pilot project.

2. Technical assistance in facilitating the financing of renewable energy infrastructure, focusing on Eastern Indonesia.

3. Provision of small-scale renewable energy infrastructure in Eastern Indonesia.

4. Encourage international and domestic cooperation to facilitate the transfer of knowledge, innovation and practice in the development of renewable energy.

"England will contribute to the provision of small-scale renewable energy infrastructure in Eastern Indonesia, because I believe that even if done on a small scale, it is an effort to reduce poverty and trigger economic growth," Ego said. For Indonesia, this collaboration will help the development of renewable energy in Indonesia, which has recently received significant progress.

"In the past few years, there has been progress in developing Renewable Energy in Indonesia. Until the end of 2018, geothermal installed capacity has reached 1,948.5 MW, the installed capacity of Sidrap PLTB is 75 MW, and the contribution of Bioenergy Power Generation is around 1,858.5 MW. Currently we are preparing the Jeneponto PLTB with a capacity of 72 MW to be
operational immediately, "explained Ego

Ego hopes that this collaboration can create something tangible, such as the EBT project that can be implemented and be beneficial for the people of Indonesia, for the realization of fair energy.

The British Ambassador to Indonesia, ASEAN and Timor Leste, Moazzam Malik said that the England supports Indonesia's goal of providing equitable energy. "I am pleased that England has partnered with Indonesia to carry out this initiative. Through the Renewable Energy program and the Low Carbon Program from the Prosperity Fund, we are proud to be able to support Indonesia's goal of providing energy equality focused on expanding access to clean energy in eastern Indonesia," he said. (sk)