Thrust Electric Vehicles, Jonan: Reduce Dependence on Crude Oil
Tuesday, October 31, 2017 208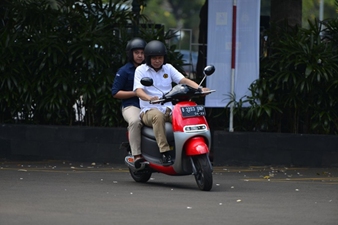 JAKARTA - Minister of Energy and Mineral Resources (ESDM) Ignatius Jonan, on Monday (30/10) back to ride electric motor electric. This time with Deputy Minister of Energy and Mineral Resources Arcandra Tahar, both tried electric motors made by PT Viar Motor.
This indicates the size of the Government towards the development of electric vehicles in Indonesia. In accordance with the direction of President Joko Widodo, Indonesia must immediately have National Energy independence, so in the future Indonesia does not depend on imported crude oil.

"Why do we have big concerns? If we use electric vehicles, we charge with electricity, electricity generated from what? Primary energy from coal, wind, gas, ocean currents, all this primary energy in the country so our dependence on crude oil in the future does not rise, "said Jonan.

Jonan further explained that his support for the development of electric vehicles is not without reason, in addition to reducing the use of crude oil, electric motors also reduce air pollution. In addition, it can employ workers in the area around the factory.

"If it can not fall in the amount of imports at least, it does not go up, this should be the way, I support it, produced nationally, manpower, not adding pollution time by time ", continued Minister Jonan.

Regarding the regulation, the Ministry of Energy and Mineral Resources continues to oversee the Presidential Regulation on electric vehicles. Jonan added that the current Presidential Regulation (Perpres) is still under discussion with the Minister of Secretary of the Cabinet.

"The substance of the Presidential Regulation is the Government wants to increase to use of electric vehicles so that energy independence has started from now," said Minister Jonan
Viar electric motors consume about 1.6kwh (equivalent to Rp.2.300) per 60 Kilo meters (km), at an average speed of 60 km per hour. From energy use, when compared Premium RON 88, can save about Rp.7.000 per 60 km.
"If a day use 60 km, then a month saving around Rp 200 thousand. Battery can hold about 4-5 years," added Jonan.

Another advantage of this electric motor is the unnecessary infrastructure and special care. "There is no need for infrastructure, Public Electricity Filling Station (SPLU) is still provided in all offices of PLN, sub-district office, urban village, mall, and also electric motor no costs for machine maintenance, no oil change, no need for spark plugs, replace the battery is the same as the cost of machine maintenance and oil change ", said Minister Jonan.

PT Viar Motor cooperates with Gajah Mada University for research and development of this electric motor. As for the technology used, Viar worked with the German company, Bosch.